Many of us may qualify as "makers," but how about a "maker of machines?" [Danielle Applestone] tells us what kinks to look for whilst embarking on your hardware startup adventure. Co-founder of Other Machine Co, the company that makes a PCB Mill that holds tolerances as tight as a thousandth of an inch, [Danielle] holds degrees in chemistry and materials science from MIT and UT Austin. While she may tell you that the math for running a hardware company is easy, knowing what numbers to crunch and keeping track of them has been part of her key to success. So take 20, and give yourself a moment to take in [Danielle's] tips from her Hackaday Superconference talk on beating the hurdles ahead in the land of hardware startups.
Small Co; "Big" Data
Like many startups, Other Machine's encroaching launch date pressured the team to release their product into the wild untested. Denied the luxury of time to find bugs, OtherMachine pushed onward with a clever scheme that enabled them to learn the most from their users: shrewd logging of production manufacturing data for every mill ever sold. Who assembled the mill? Check. What suppliers provided this mills parts? Check. What version of the assembly instructions that were used to assemble this mill? Check. With a detailed cluster of metadata, Other Machine can track down and even predict problems in specific batches of machines based on faults reported from a single user. With so much data at their fingertips, they even developed an in-house app to facilitate the process of logging mill data.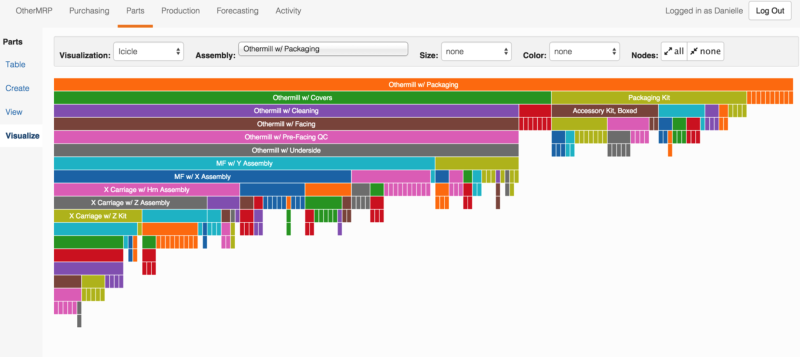 Armed with this data, launching an untested product isn't an aimless leap into the unknown. It's a well-timed jump with hooks set deep into the process that enables OtherMachine to learn from their products while they're in the field.
Customers as Royalty
With a field full of untested machines, OtherMachine's Kickstarter backers became the first guinea pigs at launch. To complicate matters, the OtherMill morphed in design as they were being sold. Parts were exchanged, modified, or added as the team continued to iterate on the design. To supplement the machine's untested history and continuous shape-shifting, the team at Other Machine was ready to leap onto the customer's problem at a moment's notice. Their biggest asset? The fine-tuned tracking of each machine's history from their extensive logging infrastructure. Sure, machines may have different bills-of-materials or CAD models, but because Other Machine can tell the story in great detail for each of their machines, they can provide the immediate, personal support for the machines that failed in the wild.
A Community-Tested Triumph
With the clever foresight to log the story of each mill, Other Machine Co. ran–and continues to run–a product-wide experiment to produce a PCB mill that works not just on their bench but also the bench of each of their customers. For potential buyers of the future–fear not! The OtherMill is a crowd-funded and community-tested success, and, for the truly skeptical, [Matt] gives us the inside scoop on just how shiny of a gem this tool really is.