3D printed clocks have been done before, but never something like this. It's a 3D printed clock with a tourbillon, a creative way to drive an escapement developed around the year 1800. Instead of a pendulum, this type of clock uses a rotating cage powered by a spring. It's commonly found in some very expensive modern watches, but never before has something like this been 3D printed.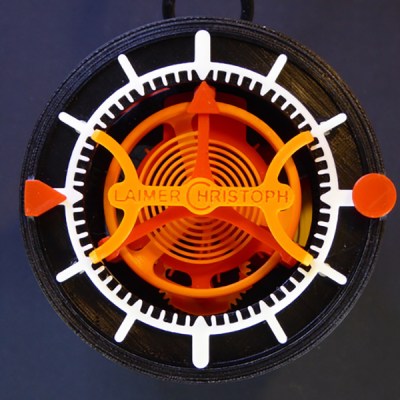 [Christoph Lamier] designed this tourbillon clock in Autodesk Fusion 360, with 50 printable parts, and a handful of pins, screws, and washers. The most delicate parts – the hairspring, anchor, escapement wheel, and a few gears were printed at 0.06 layer height. Everything else was printed at a much more normal resolution with 0.1mm layer height.
Because nearly the entire clock is 3D printed, this means the spring is 3D printed as well. This enormous 2 meter-long spiral of printed plastic could not have been printed without altering a few settings on the printer. The setting in question is Cura's 'combing' or the 'avoid crossing perimeters' setting. If you don't disable this setting, the print time increases by 30%, and moving the print head causes the plastic to ooze out over the spring.
There's a 26-minute long video of the 3D printed tourbillon clock in action that is horrendously boring. It does demonstrate this clock works, though. You can check out the more interesting videos below.
Thanks [LupusMechanicus] for the tip.