Sometimes words just have to be spelled for others. I've been on phone conversations where the person on the other end is spelling for me and it's painful. "Was that a 'b' or a 'p'?" Sometimes they'll try on the fly to use words with the beginning letter trying to convey the letter: "B as in boy". Then they'll get stumped mumbling while they think desperately for 'k' words… 'ketchup'. Okay, but is that really ketchup or catsup? Now think how much easier spelling is on a phone than over a poor quality radio channel. What we say, and how we say it is the key to our brain's ability to error correct human speech. It's a solved problem that was built into radio etiquette long ago.
The Sam Houston National Forest is miles away from the repeater we use for communication during the local IronMan and other public service events. With spotty cell coverage our radios are the only viable tool. But it's really amazing how much RF a pine forest can absorb. With these events near the limits of repeater coverage it can be a challenge finding a spot that isn't in a 'hole', even using my 50 watt mobile rig.
Event participants sometimes need assistance so we call in a support vehicle to pick them up. We'll give out their bib number and gender, "Rider is female, foxtrot, with bib number, figures, 1234", for a female with bib 1234. A male is a 'mike'. We use letters selected from a standard phonetic, or spelling, alphabet so nobody fumbles for words.
Name the Police Officer
Spelling alphabets came about because early users of radios, like police departments, had similar problems with weak or uncertain signals. An officer calling in a license plate needs to be accurate. Unfortunately, English letters are easily confused. Did the officer, or ham during an event, say "P" or "B"?
The police started using a phonetic alphabet where the first letter of a word is the letter being transmitted. So in my case my plate is Kilo Five Romeo Uniform Delta, using the current NATO phonetic alphabet. But it took us awhile to get this far. An early alphabet used by the Los Angeles Police Department was based on people's names:
Adam Boy Charles David Edward Frank George Henry Ida John King Lincoln 
Mary Nora Ocean Paul Queen Robert Sam Tom Union Victor William Xray 
Yellow Zebra
The New York City PD alphabet used a few different names: Charlie Peter Young. In 1948 the American Radio Relay League (ARRL) adopted the words in the NYPD alphabet with the substitution of Baker Lewis Nancy Otto Susan Thomas Zebra.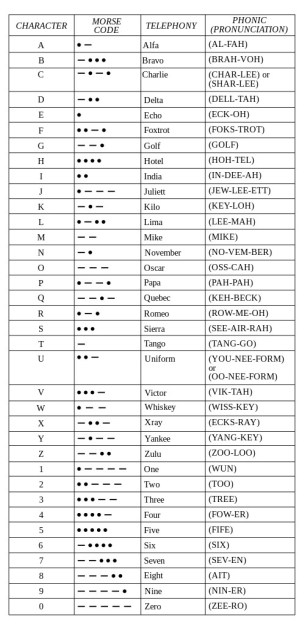 One motivation for changing the words in an alphabet is to improve comprehension. A local police department's officers would understand the local accents of other officers so comprehension is high. It is more difficult to understand some words when two hams with different US regional accents are communicating. Accents helped drive the changes to the ARRL alphabet.
As implied in its name, a primary role for the ARRL in early days was relaying messages across the US and internationally. This was in the days when long distance telephone calls were so expensive an individual used them only for emergencies. A friendly local ham could insert a message into the ARRL's National Traffic System and it would speed its way to the recipient. Unfortunately, that system doesn't work quite as well today.
Adoption of NATO Phonetic Alphabet
The aviation industry and the military faced the same comprehension problem working across national boundaries. This led to the development of the International Radiotelephony Spelling Alphabet also known as the NATO or International Civil Aviation Organization alphabets. It's widely used by other organizations. The ARRL and hams fall under the jurisdiction of International Telecommunication Union which specifies the use of this alphabet, so it replaced the 1948 alphabet. The goal of these alphabets is to allow transmission of messages regardless of the speaker's native language, signal interference or noise, and, as mentioned, weak signal strength.
There was still a problem. The various language users didn't pronounce the words in the same way, at least following the English spelling of the word. That required pronunciation guides for different speakers. The chart shown is for English speakers. One for a French speaker would be different.
Spitting out Digits and Avoiding Deltas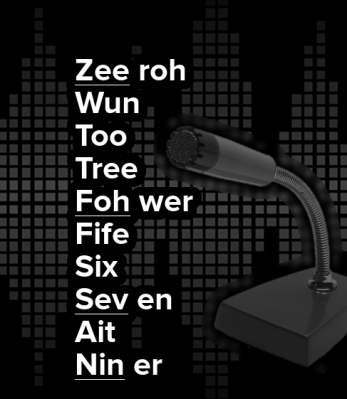 The transmission of digits is equally important. Distinguishing flight 123, a 767, from flight 456, a 737, on an airport landing approach is rather critical. In a related aviation issue, the word "Delta" is not used for "D" at airports, like Atlanta's Hatfield-Jackson Airport, where Delta Airlines has a major presence. To avoid confusion, "Data", "Dixie" or "David" are used.
To address the digit issue, a pronunciation guide is supplied for the digits, also. It sounds a little strange to our inner ears when we read the list. It sounds a lot better in reality, although typically hams just use our day-to-day pronunciations.
Message handling itself requires some adaptations. When a tricky word is being passed in a message, the sender should spell it for the recipient. For example, "This article was edited by Szczys, I spell, Sierra Zulu Charlie Zulu Yankee Sierra." Similarly, numerics are passed as, "Hopefully this article will reach, figures, Wun Zee-ro Zee-ro Zee-ro Zee-ro page hits." Another related technique is passing characters themselves when they are not a word. This might be for acronyms like ARRL or an airport designator like IAH – for Intercontinental Airport Houston. You'd say, "I am a member of, initials, Alph Romeo Romeo Lima".
I memorized the NATO alphabet for use in ham radio. But there are times, like spelling my name for someone on the phone, where it's come in handy having it on the tip of my tongue. A negative reaction I've seen is someone seeing the use of the alphabet is pretentious, as if hams are setting themselves as superior. Of course, it isn't. It's just training.