Designing parts to fit perfectly together is hard. Whether it's the coarseness of our fabrication tools or the procedures of the vendor who makes our parts, parts are rarely the exact dimension that we wish they were. Sadly, this is the penalty that we pay by living in a real world: none of our procedures (or even our measurement tools!) are perfect. In a world of imperfect parts, imperfect procedures, and imperfect measurement techniques, how on earth are we supposed to build anything that works? Fortunately, we're in luck! From the brooding minds of past engineers, comes a suite of design techniques that can combat the imperfections of living in an erroneous world.
A Case Study in Cutting Corners Where It Doesn't Count
To give us some context, I thought I'd try my hand at these techniques while building a 2-axis gantry to move around the optics for a laser cutter. The catch? I'm nowhere near a real machine shop, so I'm working with a band saw, a chop saw, a micro mill, and a few measuring tools. Nevertheless, good design practices can still make their way out of a handful of manual tools. Now that the gantry is complete, I thought I'd take us on a design tour of how we can "cut corners" whilst designing projects at home–without really making any performance sacrifices.
Precision Over Accuracy Where It Counts
Sometimes nailing down the exact dimension of a component matters less than the difference in dimensions between components. If we're fabricating these parts ourselves, we need to ensure that our procedure for handling those parts treats them as-close-to-identical as possible. In the case for the laser cutter, the frame becomes a great candidate for ensuring that related parts are nearly the same length.
I'll admit that the design phase of this project had me drooling over a sweet CAD model once my parts were in place. Extruded tubing modeled to an exact 850.00 millimeters…. corner bracket models that were perfect cubes…. Fabricating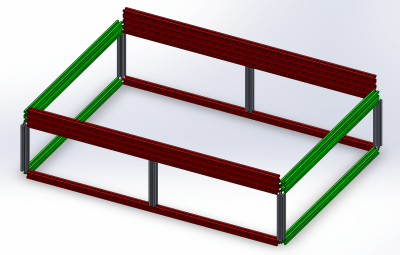 those parts to actually meet the dimensions of their CAD counterparts, though, would be another ordeal. Sadly, all I had to measure my extruded tubes before cutting them was nothing more than a floppy measuring tape. Crude? Yes, but I could get the ballpark dimension that way. Luckily, the secret behind designing a working gantry frame is that meeting the exact dimensions of these tubes doesn't matter! What matters is achieving tight relative dimensional tolerances across parts that needed to be the same length.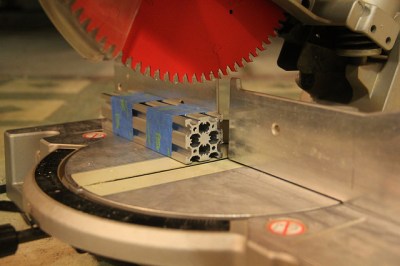 Let's take an up-close look at the gantry frame. The red lengths are 850 mm; the green, 600 mm; and the red, 160 mm, according to the CAD model. With a measuring tape, I can't get any better than within a couple millimeters of those dimensions. That's OK, though. As long as the frame tubes of the same color are all as close as possible to the same length, the overall frame will still be square (…or square enough). How do we ensure tight relative dimensional accuracy? Tape them together and cut them all at the same time!
Accounting for Imperfect Stock Parts
Designing parts to fit perfectly together is hard, but a truly perfect fit is impractical. In fact, engineers don't even design systems assuming their parts will need a perfect fit. Rather, they'll design their parts to accommodate a range of dimensions. Engineering has cute word for it: tolerances. Sometimes it's me: "I can drill that hole to 8 [mm] plus-or-minus 0.1[mm]." Sometimes it's the datasheet: "Thicknesses are plus-or-minus 0.05[in]." Either way, tolerances give a range to our dimensions. If we keep these tolerances in mind, we can design to accommodate these ranges such that our parts will fit together even if their dimensions are slightly off.
As an example, let's take a look at a stepper motor driving a shaft through a timing belt and two pulleys. According to the manufacturer, the timing belt has a nominal length, determined by the belt's tooth pitch and number of teeth. The pulley's also have a nominal dimension called the "pitch circle," which is a virtual circle around the teeth where we can assume that the belt rides. Given the dimensions of each pulley's pitch circle and the nominal length of the belt, we can calculate the spacing between both pulleys.
Unfortunately, timing belt lengths tend to vary with the tension, temperature, and life of the belt, so predicting a belt's exact length just isn't practical. Luckily, we don't need to! By keeping in mind the variability in belt length, we can design our part to accommodate this variability with a range of set points for the connecting parts.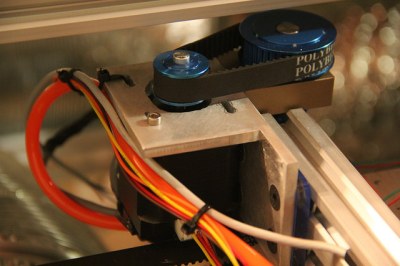 In the case of the laser cutter X-axis, I converted holes to slots around the nominal length of the belt. To tension the belt, I can simply pull the motor down the slot once it's engaged with the belt. All-in-all, this belt is a little short to assume that it's going to stretch significantly. On the other hand, the motor slots play a handy second role during installation and removal. To remove the motor, I can slide it down the opposite direction to release the tension. All-in-all, it's a dead simple modification, but it solves the belt-tension problem without the need for any fancy belt tensioners or additional parts!
Designing for Calibration — and Then Calibrating
When we designed that motor plate, we gave it a nominal length and then added a range above and below to account for belt stretch and other variations. We can take this same idea for a variety of mating parts. Unfortunately, sometimes we can't find that exact set point where the two parts meet by feel. In those cases, we something better. We need a few more tools and techniques to get everything in the right spot.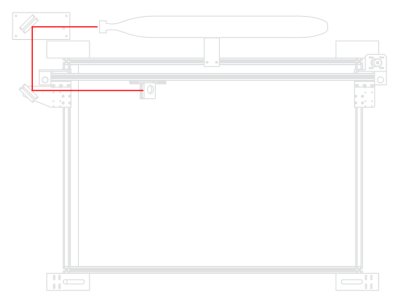 Most CO2 laser cutters these days use a technique called "flying optics." Despite the fancy name, it's a pretty straightforward concept. Rather than move the entire laser over the surface where we'd like to cut, keep the laser fixed and just move around the beam. A flying optics setup works wonders since our gantry motors need only be powerful enough to kick around a few bounce mirrors, rather than the entire tube, with reasonable acceleration. The catch? When we first assemble the laser cutter, for all we know, one shot from that laser and we could be blasting a hole off to the side, out of the frame, and into the neighbors yard! (Seriously, let's be safe about this, folks.) In short, the optical path of the beam needs to be precise with a precision that can't inherently come from the design. (I'm building this in the garage, remember?) The machines that made our parts aren't perfect, and neither are our crude hands that screwed those parts together. In a nutshell, we can't guarantee that parts will fit in the exact spot they need to be for a proper beam path. To build a laser cutter, we need to design for alignment, and then align it! Our fellow laser-cutter-building folk get around these imperfections by mounting their bounce mirrors on platforms that have an adjustable set point with a fine granularity. On my gantry, I installed three of these.
Next comes the actual alignment. Heads up; the laser is invisible! It's also quite good at burning anything that gets in it's path. No big deal, right? (Safety glasses on, folks!) For starters, I got a rough estimate of 45 degrees with a protractor and screwed down the mirror plates at that point. From there, I made a rough guess at the path of the beam, put a piece of paper in the way, and–POOF–fired that laser right through the paper! At this point, started tweaking each mirror until the burn marks on paper roughly made their way over to the direction of the mirrors. After a few rounds of poof-and-tweak, I had the laser roughly landing all three mirrors.
For the last step, I needed a far better guesstimate of the true location of the beam then my truly holey paper was going to tell me. I needed those mirrors at a true 45º, and no measuring tool in my garage was going to get me there. Rather than try to rely on perfect mirror angles, the wonderful folks far wiser than me have suggested spoofing the actual path of the laser with a visible guide laser, so that's exactly what I did. After putting a few burn marks on paper, I jigged up a laser pointer to trace those burn marks. From there, I could confidently predict the beam path and aligned the mirrors to their final position.
A Journey to Precision with Imprecise Parts
Presto — that's one working laser cutter from a cluster of aluminum tubes, plates, and a pair of monkey hands to screw them together! Something is strange, however. These parts made on the chop saw and milling machine were, to be fair, pretty ugly. Holes were oversize. Surface finishes on those cuts were an abomination. Despite these imperfect parts, with the proper tools and techniques for alignment, I could still achieve a working system. The accuracy and precision come from not the parts, but the tools and techniques used to finally put them in the right place — making allowances. It's a lesson learned.
In the real world, nothing's perfect. Guitar strings must be tuned. Bike brakes must be tensioned. Despite these errors, if we design our parts with calibration in mind, focusing only on the dimensions that matter, we can still tune our system into a working state. To all the folks out there trapped in the real world, we'd love to hear about how you've tweaked your designs for tuning in the comments.