This weekend is the Vintage Computer Festival East in Wall, New Jersey. Every year is different, but there's a general plan for each day. On Saturday and Sunday, the exhibits rule the con, the consignment shop is busy, and the keynotes bring down the house. Friday is a little different. This is the day for 'in the trenches' talks from the commodore crew, classes on recapping 30-year-old computers, and this year – for the first time – a retro hackathon. It's basically the same format as any other hackathon, but instead of bringing MacBooks and building something cool, Apple IIs and Commodore 64s were provided. This is the report on the first retro hackathon we've ever been to.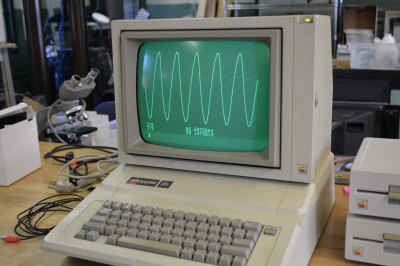 First off, no one remembers how to program in BASIC. If you're looking for a population that should remember the vagaries of the different dialects of BASIC, you would think it would be the people who came out to the middle of Jersey on Friday to talk about old CPUs. Apparently, this is not the case and several people were confused about single and double quotes in PRINT statements. Luckily, a few programming manuals for the C64 and Apple II were available, so everyone could still have fun with PEEKs and POKEs.
If you want to get people programming on some old machines, you need to give them some inspiration. The first half hour of the retro hackathon didn't see any teams programming. Given this demographics proclivity to say, 'I can do that better', I typed a few BASIC one-liners in the C64 (random Truchet tiles in PETSCII) and Apple II (a SIN graph), and the people started pouring in. Yes, they could program something better than a single line of BASIC.
What came of an impromptu retro hackathon? Hangman, in BASIC. No, it didn't quite work, and there were only three or four possible words hardcoded into the program. Still, text mode graphics are a lost art. The Apple IIc was programmed to make fart noises. The original plan for this project was to program music. What would  have been the winning entry was a line-drawing program on the C64 that looked like the enemy in Qix. That guy wasn't there during judging. The winner of a $50 credit to the consignment shop was a kid who programmed zero-player Pong on Apple II basic. He bought a Mac Portable (non-backlit) with that prize.
We've gone to hackathons, we've waded through the sea of MacBooks, and had a Red Bull drip installed. This retro hackathon was completely different, but somehow familiar. No, no one is going to create something new – everything that can be done on these machines in a few hours of BASIC programming has already been done. That's not the point, though. It's a geek pride of proving your mettle, putting your money where your mouth is, and doing it in a casual environment where everyone is friendly. This is the first retro hackathon we've gone to, and it won't be the last. We're going to do this again, once we get an Apple IIc+, a few Commodores, a Speccy, and a few good monitors. We already have the banner, anyway.