[Javier] has put in his time playing Final Fantasy X. In the game, there's a challenge where you have to dodge 200 consecutive lightning strikes by pressing a button at just the right time. [Javier] did this once, but when he bought a new PS Vita handheld, he wanted the reward but couldn't bear the drudgery of pressing X when the screen lights up 200 times.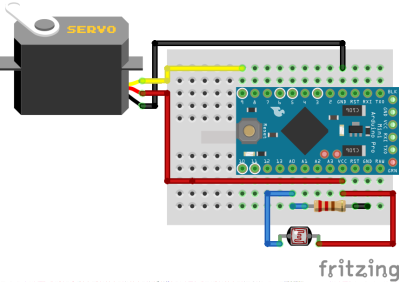 So he did what anyone would do: hooked up a light-dependent resistor to an Arduino and rubber-banded a servo to press the X button for him. It's a simple circuit and a beautiful quick hack, all the more so because it probably only took him a half hour or so to whip up. And that's a half hour better spent than dodging lightning strikes. According to his screen-shot, he didn't stop at 200 dodges, though. He racked up 1,568 dodges, with a longest streak of 1,066. You can watch a video on his blog and pull the code out of his GitHub.
Why do this? Because that's what simple computers are for. We hate these silly jumping mini-games with a passion, so we applaud anyone who cheats their way around them. And while not as hilarious as this machine that cheats at Piano Tiles, [Javier]'s hack gets the job done. What other epic video game cheats are we missing?