If you've been reading the news lately, you doubtless read about the find of a really big new helium gas field in Tanzania. It's being touted as "life-saving" and "game-changing" in the popular media, but this is all spin. Helium is important for balloon animals, scientists, and MRI machines alike, but while it's certainly true that helium prices have been rising steadily since 2000, this new field is unlikely to matter all that much in the grand scheme of things.
The foundation of every news story on helium is that we're running out of the stuff. As with most doomsday scenarios, the end of the world's supply of helium is overstated, and we don't just mean in light of the new Tanzanian field. Helium is the second-most abundant element, making up 24% of the total mass of the universe. And while the earth has a disproportionate amount of heavier elements, helium is in rocks everywhere. It's just a question of getting it out, and at what price that's viable.
So while we're stoked that the era of (relatively) cheap helium can continue onwards for a few more years, we're still pretty certain that the price is going to continue to rise, and our children's children won't be using the stuff for something so frivolous as blowing up party balloons — it'll be used primarily, as it is now, where it's more valuable: in science, medicine, and industry.
Let's take this moment to reflect on the economics of second-lightest element. Here's to you, Helium!
Discovery of Helium in Natural Gas
We found this awesome account of the discovery of helium in natural gas, so we're going to tell a little story. Helium had been identified by its spectrum in sunlight in 1868, and formally discovered on earth, leaking out of uranium ore, in 1895. So scientists knew about helium gas at the turn of the century, but it was thought to be exceedingly rare.
But it was still a relatively new element in 1903, when the small town of Dexter Kansas had hit a gusher of what they thought was natural gas. To celebrate their newfound riches, they were going to (naturally) light the thing on fire and revel in "a great pillar of flame from the burning well".
After the mayor's speech, promising prosperity for all, they tossed a burning bale of hay onto the gas gusher. It went out. They lit up another bale, and it went out. Jokes about "wind gas" and "hot air" passed through the disappointed crowd who went home just as poor as they started out.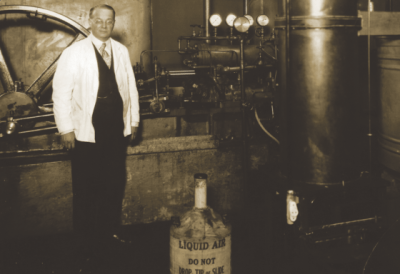 As scientists do, Erasmus Haworth, a geology professor, said "that's odd" and took a sample back to the University of Kansas and gave it to chemist David McFarland. Haworth and McFarland concluded that the gas was 15% methane, 72% nitrogen, and 12% something else. (It was the high nitrogen content that was putting out the fire.) After teaming up with another chemist, Hamilton Cady, and soaking the gas in coconut charcoal and liquid air at -310 F (you can't make this stuff up!), 10% of that "something else" would turn out to be helium.
McFarland and Cady repeated the experiment at a number of other natural gas wells, and overnight what was thought to be a ridiculously rare new element turned out to be extremely common. But nobody really knew what to do with it. And then it was suggested that it could be used for lifting blimps.
Ten years later, the US government would begin tapping natural gas fields in Texas for helium, and the price dropped from $2,500 per cubic foot down to three cents. Now you could afford to fill a blimp with helium instead of the flammable hydrogen. Helium would become a strategic gas in World War II and US helium production was managed by the government (and held in strategic reserves) until 1996.
Helium Prices Soar
By the mid-1990s, helium was a pretty boring commodity, and not really of strategic importance anymore. It was an abundant byproduct of US natural gas production, and we filled our party balloons with the stuff. The government had been selling its helium at a fixed price, and the rest of the market just followed along with the biggest producer.
But this wasn't making the US government any money; planned to get out of the production game and sell off its existing stockpile. This got codified in the helium privatization act of 1996 (PDF, legal language).
With the dominant producer leaving the helium business, it's not a shock that world prices would rise. And at around the same time, US production of natural gas shifted to extraction from shale, which has no helium by-product. US helium production has been falling ever since, and global demand for helium has been steadily, if slowly, growing.
You don't need an economist to tell you that the prices of helium would go up under these circumstances. By 2013 helium cost nearly double what it cost in 2000. We read all over that the world was "running out of helium".
Business as Usual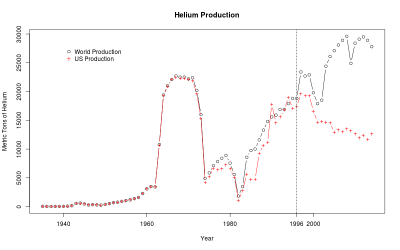 But that was crazy-talk. (Or at least anti-economic.) Instead of running out of helium, as the price rose, more-expensive methods of trapping and refining the gas became economically viable. Although few of the world's gas fields are as rich as those in Kansas and Texas were, there is helium everywhere that natural gas is found. While US helium was so cheap, these other sources just blew their helium off because it wasn't worth refining.
With the price of helium a lot higher, other gas fields invested in helium-capture and refining. In particular, Qatar has picked up the slack, and there's been very little slowdown in world production. So much for a "helium shortage".
On the demand side, universities and other institutions that used large quantities of helium started taking steps to recycle it, rather than just letting it vent off into the atmosphere. Anecdotally, a friend who ran a blimp-based architectural photography business found it finally worthwhile to buy expensive linings to help trap helium gas better, rather than simply refilling his blimp for every gig. As helium became more valuable, it became more valued. This, in turn, slows down the rate of consumption relative to what it would be if helium were cheaper.
In short, the market adjusted. As the price rose, both producers and consumers of helium stopped being so wasteful.
New Finds
All of the above is just to put the current Tanzanian find in perspective. In the beginning, the US, the world's cheapest producer of helium, had abundant supplies. As those turned off, the price of helium rose and it's now become profitable to extract helium elsewhere. And it's become profitable to go looking for new helium sources.
Indeed, the joint-venture between the academics at Oxford and the helium-exploration company, Helium One, is made economically possible by exactly this price increase. Beforehand, it just wasn't worth the time to go prospecting for helium. Now it is. And just as certainly, they and other companies will find more sites. Whether they make sense to exploit will depend on the world price.
So rather than bite on the hype of a new helium field, even one that is large enough to supply the entire world's helium demands for six years, we take the long view. Just after helium's commercial discovery, it became insanely cheap. Only recently, as the world's cheapest sources begin to run dry, has the price risen. And we don't see any reason that it won't continue to do so unless a truly gigantic, inexpensive field of helium is discovered. If the price continues to rise, formerly unaffordable production methods will become affordable. We're not running out of helium, it's just getting more expensive to produce.
And if we were to wager on the future of floating party balloons, we'd bet on helium-retaining mylar balloons in favor of the relatively permeable rubber variety. Even for helium's most frivolous use, it's not going to be wasted. We don't drive gas-guzzlers to the grocery store any more, either.