There are many ways to take an electrical audio signal and turn it into something you can hear. Moving coil speakers, plasma domes, electrostatic speakers, piezo horns, the list goes on. Last week at the Electromagnetic Field festival in the UK, we encountered another we hadn't experienced directly before. Bite on a brass rod (sheathed in a drinking straw for hygiene), hear music.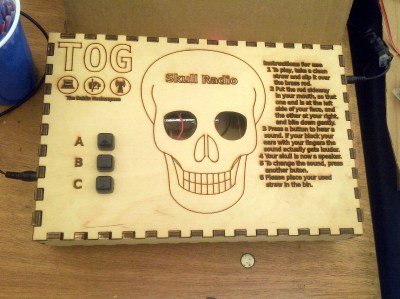 This was Skull Radio, a bone conduction speaker courtesy of [Tdr], one of our friends from TOG hackerspace in Dublin, and its simplicity hid a rather surprising performance. A small DC motor has its shaft connected to a piece of rod, and a small audio power amplifier drives the motor. Nothing is audible until you bite on the rod, and then you can hear the music. The bones of your skull are conducting it directly to your inner ear, without an airborne sound wave in sight.
The resulting experience is a sonic cathedral from lips of etherial sibilance, a wider soft palate soundstage broadened by a tongue of bass and masticated by a driving treble overlaid with a toothy resonance before spitting out a dynamic oral texture. You'll go back to your hi-fi after listening to [Tdr]'s Skull Radio, but you'll know you'll never equal its unique sound.
(If you are not the kind of audiophile who spends $1000 on a USB cable, the last paragraph means you bite on it, you hear music, and it sounds not quite as bad as you might expect.)
This isn't the first bone conduction project we've featured here, we've seen a Bluetooth speaker and at least one set of headphones, but our favorite is probably this covert radio.