We've been all over the UK this month, our most recent Hackaday gathering just two nights past. With much hardware and hacker show and tell (recounted below) I wanted to make sure nobody missed the chance to join in as we'll be in Bletchley on Saturday and in Cambridge on Wednesday. Whether you need more convincing to walk out the door and join in the fun, or just want to the see the excellent hardware so far displayed, keep reading to share in the fun from Wednesday night.
London pubs have an unfavourable image among provincial folk, one of being strange neon-lit places populated by vast crowds of very loud people in suits drinking cheap wine at expensive prices. The truth is though that the capital's pubs are as diverse as those anywhere else in the country, from shabby quiet backstreet boozers with their aged customers nursing pints of Fullers to achingly hipster faux-Victorian gin-palaces in which young men sporting preposterous beards they'll regret in five years time drink microbrewery ales you won't have heard of served in glass tankards. On a hot August evening the patrons spill out onto the pavement and provide a handy reference to the would-be drinker as to the nature of the establishment.
This warm-evening exodus served our community well night before last, for when a group of Hackaday readers and Tindie sellers converged upon a pub in Fitzrovia there was enough room to reach the bar and though it was hardly quiet we could at least discuss the things we'd brought along. My colleague [Jasmine] had organised the event and was on hand with a pile of stickers and other swag.
A select group of hackers and makers made the journey. Some of them, such as my friend [David], I had encountered frequently online but never met in person so it was good to put a face to a name, while others I knew only by the reputation they had garnered through the projects they'd put on Hackaday.io or Tindie. I will undoubtedly fail to mention a few names in this quick round-up of a few of the projects, so before I start I would like to thank everyone for coming along and making it such a good evening.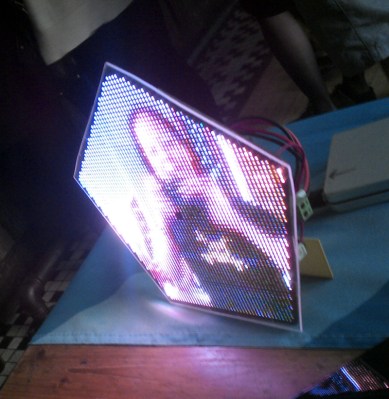 Electric Stuff from Mike's Workshop
Most visible because of an extensive range of very bright LED projects was [Mike], of [Mike's Electric Stuff] fame. His PCB density was impressive, though he did admit to having a pick-and-place machine. Especially useful for those large LED matrices. Of note was a pentagonal LED screen with integrated camera, originally part of an LED screen polyhedron. This board offered a rare glimpse of a Raspberry Pi Compute Module in the wild.
Scope Probe Sans Pound Sink
Opposite me for most of the evening was [Leonerd], with his oscilloscope current probe adapter. This board as you might expect contains a very low value shunt resistor and an amplifier, allowing the accurate measurement of low current transients without laying down the GDP of a small country to buy one from a high-end test equipment manufacturer. I was party to a very interesting conversation between him and [Mike] on the subject of instrumentation amplifiers, something of personal interest from my experience with RF test equipment.
A Wild Z80 Appeared
Also present was [Spencer] with his RC2014 Z80-based computer. He'd brought along the fully tricked-out version with keyboard and screen, and had it running a fractal graphic generator written in BASIC. It's a project that touches a spot in the heart of people of a certain age, if your first computer came from Sir Clive Sinclair then maybe you'll understand.
The value of the evening was not solely in the kits and projects on display though. Whenever you get a group from our wider community together in a convivial environment the creative discourse flows in unexpected direction, knowledge is shared, and new ideas are formed. Part of the global Hackaday and Tindie community got to know each other yesterday evening, and from that will come fresh projects. They may not necessarily change the world, but everything has to start somewhere.
This event was one of a short series following our successful bring-a-hack at EMF Camp. We were very pleased to see the projects people brought along, they comprehensively eclipsed the little radio board that was my offering. The run of UK events isn't over, we have ones coming up at Bletchley and Cambridge, and as always keep an eye on the Hackaday.io events page for global events within our community.