Making on the go is sometimes required in today's busy lives, and if you find yourself traveling — say, off to university like [ZSNRA] — then a convenient solution is required. To that end, a portable electronics workbench was built in the shape of a relatively nondescript plywood box.
Plywood and foam-core are the main materials used in building this maker's bug-out box, with two fir runners along the bottom so the case is not resting on the hinges. Inside, [ZSNRA] has packed a staggering amount of hardware which results in an 11kg suitcase.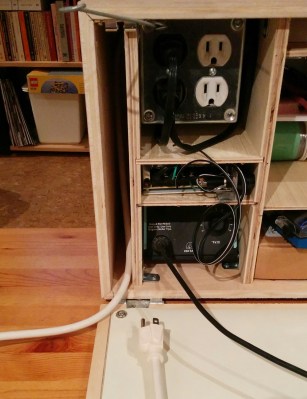 Here goes — deep breath now: wires, solder, resistors, transistors, capacitors, diodes, clips, switches, logic chips, non-logic chips, an Arduino, ATmegas, fuses, pliers, wire strippers and cutters, angle cutters, tweezers, a 66-piece screwdriver set, a desoldering pump, 12 needle files, a hacksaw blade, a multi meter, oscilloscope, power source, four outlets built into the case(!), steel wool, a third hand, a soldering station, two handbooks, and a breadboard.
Whew.
The work surface is an ESD mat on the inside of the case's front face that is comfortable enough to work with, though we are surprised that it doesn't also fold out somehow to create an even larger work-space.
For an elegant — if slightly less mobile — workbench solution, check out The Tempel. Now if you're looking for ideas on how and what to carry we still think [Kenji Larsen] has the ultimate hacking kit.
[Thanks for the tip, Zaphod! via /r/electronics]