If you've been reading Hackaday for any length of time, you'll know we don't often cover woodworking projects here. It's not because we aren't impressed with the skill and effort that folks put into them, and truth be told, we occasionally we even feel a pang of envy when looking at the final result. It's just that, you know…they're made of wood.
But when [Jay Bowles] of Plasma Channel sent in this live edge wooden table that features not only a pair of custom-made neon tubes but the burned out transistors and ICs from his previous high-voltage exploits — we knew this wasn't exactly your grandpa's idea of woodworking. In fact, he wisely offloaded a lot of the dead tree cutting and shaping to the burly gentlemen at the local sawmill so he could better focus his efforts on the sparky bits.
At its core, he's created what's generally known as a "river table" — a surface made of two or more pieces of live edge wood (that is, a piece of lumber that features at least one uncut edge) that are linked via a band of colored epoxy which looks like flowing water. It's not uncommon to embed stones or even fake fish in the epoxy to really sell the underwater effect, but this is Plasma Channel we're talking about, so [Jay] had other ideas.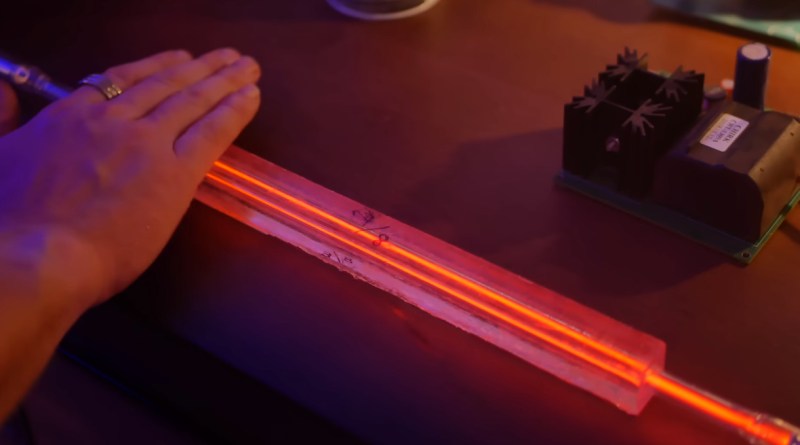 The first step was hitting up a local neon supplier who could fabricate a pair of neon tubes which roughly followed the shape of his epoxy river. While he was waiting for them to be finished, [Jay] played around with a clever experimental rig that let him determine how thick he could pour the epoxy over the tubes before he lost the capacitive coupling effect he was going for. By embedding a short length of neon tube off-center in a block of epoxy, he could see how the thickness impacted his ability to manipulate the plasma with a wave of his hand just by flipping it over.
With the tube placed on clear standoffs, he was able to position it at the ideal depth for the final epoxy pours. It was around this time that he scattered the remains of his previous projects on the "bottom" of the river, so they can spend the rest of their days looking up at his latest technical triumph. We're not sure if this is to punish the fallen silicon for giving up early or to honor their sacrifice in the name of progress, but in either event, we respect anyone who keeps a jar of blown components laying around for ritualistic applications.
Once the table was assembled, all that was left was to power the thing. Given his previous projects, [Jay] had no shortage of existing HV supplies to try out. But not being satisfied with anything in the back catalog, he ended up building a new supply that manages to pump out the required amount of juice while remaining silent (to human ears, at least). The unit is powered by a battery pack cleverly embedded into the legs of the table, and is easy to fiddle with thanks to a pulse-width modulation (PWM) module wired hooked to the input. All the components were then held in place with a wide array of custom brackets courtesy of his newly arrived 3D printer.
There's a lot to love about this project, and more than a few lessons learned. Whether you're interested in recreating the Tron-like effect of the neon tubes, or have been contemplating your own epoxy-pour worktable and want to see how a first-timer tackles it, this video is a great resource.
Continue reading "Domesticating Plasma With A Gorgeous Live Edge Table" →