As the patents for fused-filament 3D printers began to expire back in 2013, hackers and makers across the globe started making 3D objects in their garages, workshops and hackerspaces. Entire industries and businesses have sprung up from the desktop 3D printing revolution, and ushered in a new era for the do-it-yourself community. Over the past couple of years, hackers have been pushing the limits of the technology by working with ever more exotic filament materials and exploring novel and innovative ways to make multi-colored 3D prints. One of the areas lagging behind the revolution, however, is finishing the 3D print into a final product. We'd be willing to bet a four meter reel of 5 V three-and-a-half amp NeoPixels that there are just as many artists and craftsman using 3D printers as there are traditional hackers and makers. These brave souls are currently forced to use the caveman technique of paint-and-brush in order to apply color to their print. We at Hackaday hereby declare this unacceptable.
We ought to be able to print ink directly to a 3D printed object. Read on to lubricate the gears that should already be turning in your head, and let's get this problem sorted out.
Meet Xerox's $145,000 Answer
As you might have guessed, someone has already provided a solution to this problem, but it's not what you'd expect. Less than 90 days ago, Xerox introduced its Direct-to-Object printer that can print on objects as small as a Nuka Cola cap and as large as a football helmet. They're custom made for your product, and cost about as much as a house. With a maximum resolution of 1,200 DPI and an output of 30 objects an hour, it's an impressive machine. It is also absolutely useless to our community, beyond trying to figure out how it works. From what we can tell, it uses a print head similar to a typical ink jet printer. The print head is on a two axis system, that we'll call X and Y, with the X being perpendicular to the object being printed on and the Y being parallel. There is some sort of scanner that allows the print head to move in and out on the X axis to conform with the object shape, while the Y axis allows for the typical line-by-line back and forth printing. We're not sure about the last axis… whether the object is moved to allow its entire surface to be printed on, or if the printer head is moved on a separate "Z" axis.
An obvious downside to this approach is the object being printed must be fairly smooth and regular shaped. Object like bottles and glasses and so forth.
There have been other attempts to create direct-to-object printers, such as the UJF-3042 from a European company called Mimaki. These are geared toward smaller things like ink pens and cell phone covers, and are usually referred to as Direct-to-Shape (DTS) printers. But they suffer from many of the same problems as the Xerox machine.
2D —> 3D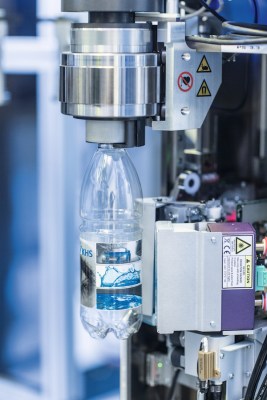 We've talked about some of these approaches before, but they should be revisited as they are proven methods of getting color onto 3D objects. Computational Thermoforming is a technique where a cast is made and a plastic sheet is softened and then formed around the cast via a vacuum. Well, what if you print art on the plastic sheet? Then you've got a way to get your art onto your 3D object! What's great about this technique is that it's within the grasp of our community. You'd need to make your own vacuum machine, which we've covered before. You use a 3D printer with PLA filament and plaster to make the cast, and then use heat and vacuum to form the colored plastic sheet over the object.
Another technique that needs to be mentioned again is hydographic printing. It's similar to the thermoforming technique, in that art is applied to a 2D plastic sheet. With hyrographic printing, the clear adorned plastic sheet is then put in water and conformed to the 3D object.
Is 5-Axis Direct to Object Printer Possible?
In the paragraphs above, we outlined two ways to get art on to a 3D object – direct to object and printing 2D art and then forming it to a 3D object. Both have their pros and cons, but we favor the direct to object approach. There is one type of direct to object printing machine that, as far we know, does not exist …yet. What about a five-axis direct to object printer? You would need a five-axis CNC and to replace the tool head with some type of inkjet printing head. That would be tricky, but should be possible. Such a machine would allow one to truly print directly to a 3D printed object. And is something a hacker could make in his or her garage.
Let us know what you think in the comments.
Image Source
Header, inline and thumbnail images are from Fespa.com