The Greek philosopher Plato is well known for his allegories and metaphors. Of particular interest is his Allegory of the Cave, which appeared in The Republic, written around 380BCE. In it, Plato describes a group of prisoners which are chained to a wall within a cave, and have been all of their lives. They have no direct interaction with the world outside of the cave. They only know of the world via shadows that are cast on the wall opposite of them.  For the prisoners, the shadows are their reality.  Though you and I know the shadows are only a very low-resolution representation of that reality.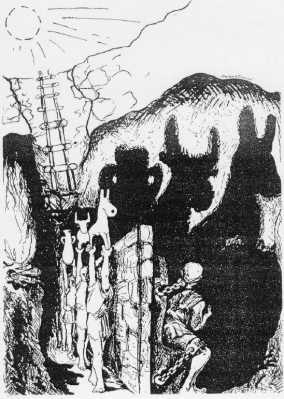 Theoretical physicist Steven Weinberg, a Nobel Prize winner who works out of the University of Texas at Austin, once likened himself to a prisoner in Plato's cave. We are forever chained to this cave by the limitations in measurements we can make and experiments we can perform. All that we can know are shadows of the reality that exists in the sub-atomic world. We can see the shadowy figures lurking in our math and as wisps of misty vapor trails in our cloud chambers. We attempt to pierce the veil with the power of our imagination and draw nifty looking charts and animations depicting what our mind's eye thinks it can see. But in the end, we are all trapped in a cave… staring at shadows. Reflections of a reality we can never truly know.
In our last Quantum Mechanics article, we introduced you to the idea of quantum electrodynamics, or to put it more simply — quantum field theory. In this article, we're going to explore how QED lead to the prediction and eventual confirmation of something known as the Higgs Boson, also known as the God Particle. As usual, we'll aim to keep things as simple as possible, allowing anyone with a curious mind to know what this God particle talk is all about. Like so many things in the quantum world, it all started with an unexpected outcome…
Giving Mass to the Massless
In the early 1960's, quantum physicists began to come face-to-face with particles they called massless bosons. They presented quite a problem, as massless particles tended to be associated with long-range forces, such as photons are to electromagnetism. For short-range forces within the nucleus of an atom, particles tended to have mass. And these massless bosons kept popping up in theory… they were completely out of place. So the hunt was on to figure out how to give these massless particles mass. There were just as many physicists, however, trying to prove that the massless bosons did not exist at all. One of these men was Steven Weinberg.
At this point in time, no one had actually seen a massless boson, mind you. Quantum theory only predicted its existence. And as only quantum theory could have it — as Weinberg and his associate Jeffery Goldstone were locked in an effort to show that massless bosons were not real, they ended up proving that they were indeed, real. And not only were they real, they figured out how to give them mass as well. Problem was Goldstone had to assume that the vacuum of space was filled with this sort of super-field thing that permeated all of space and time. And that the mass was essentially coming from "nothing" due to symmetry breaking within this hypothetical ether-like field. It quickly became known as the Goldstone theorem; the field would later be referred to as the Higgs Field.
The process of how the Higgs field imparts mass on the massless boson is a mathematical monstrosity, so we have modified an analogy used by CERN scientists (when dealing with politicians) to describe how the process works:
Imagine you're overlooking a hackerspace filled with hackers evenly distributed and talking about the latest [Al Williams] article. The hackers are equivalent to the Higgs field. And then in walks none other than [Brian Benchoff]. [Brian] is equivalent to the massless boson. His presence creates a stir within the hackerspace, and the other hackers begin to gravitate toward him, slowing his progress as he crosses the room. Think of this slowing process as a resistance to acceleration, with the resistance being equivalent to mass.
Gauge Bosons
In the last article, we drove home the point that fields are a part of our reality in the same way that matter is. In fact, if a field exists within a vacuum, it's not really a true vacuum. The field is occupying that space. Quantum theory dictates that these fields cannot be continuous, but must be quantized. In the last article we also introduced you to the idea of virtual particles. These particles are virtual in that they are not detectable. They exist outside of classical energy conservation laws. They can pop in and out of existence so long as they follow the uncertainty principle. So when you think of QED, think about the quantization of fields, and that the fields can also be thought of as consisting of concentrations of virtual particles. Much in the same way as the electromagnetic field can be thought of as consisting of photons. Another name for these virtual particles is gauge bosons.
The Higgs Field
Above, we talked about how a field can occupy a vacuum. QED says that gauge bosons must occupy that vacuum as well. However, a force field has to be generated by something. An electron will generate an electric field within a vacuum. Remove the electron, and the field is removed as well. And now you have a true vacuum. The Higgs field is special because it is not generated by anything. It is everywhere, constantly, permeating all of space.  Combine that fact with QM, and now you have gauge bosons that fill all of space. Because they are everywhere all of the time, they have been awarded a special name…the Higgs Boson.
As the idea of the Higgs field (and conversely the Higgs Boson) being responsible for giving mass to the massless bosons took root, a revolutionary idea in particle physics began to emerge. Could the Higgs field be responsible for all (rest) mass? Is the mass that we know of nothing more than resistance to acceleration within the Higgs field? Whether the answer be yes or no; there is no doubt why the Higgs Boson is being called "The God Particle".
The Higgs Boson
Let us harken back to our hackerspace analogy. Everyone is evenly distributed throughout the hackerspace and sharing their version of how they pronounce [Mike Szczys'] last name. The hackers collectively represent the Higgs field, but individually can be thought of as massless gauge bosons. A rumor of [Brian Benchoff's] arrival starts to spread amongst the crowd, and people begin to cluster around one another to see what the commotion is about. The clustering of people is a form of resistance, even though [Brian] hasn't arrived yet. This 'cluster of resistance' can be thought of as the massive Higgs Boson. As other 'massless' people join the cluster to hear the rumor, they acquire mass by virtue of interacting with the resistance formed by the Higgs Boson 'cluster'.
If (and this is a big if) a Higgs Boson can satisfy the conservation of energy law, it can escape the grip of Heisenberg and cross over into a detectable state. Detecting the God particle will be the subject of our next QED article.
Sources: