A new single-board computer by Orange Pi has popped up for sale on AliExpress. The Orange Pi 2G-IoT is designed to compete with the Raspberry Pi Zero, and if specs are anything to go by they have done a nice job.
There are a lot of options for extra small single board computers these days and there's a growing list at the lowest price points. Let's call it the sub-$20 cost range (to quell the argument of shipping fees). We have seen C.H.I.P., the Raspberry Pi Foundation released the Pi Zero W (an update to the Zero line that included WiFi and Bluetooth), the already available Orange Pi Zero (which was featured in a project on Monday), and now add to that list the unfortunately named Orange Pi 2G-IoT.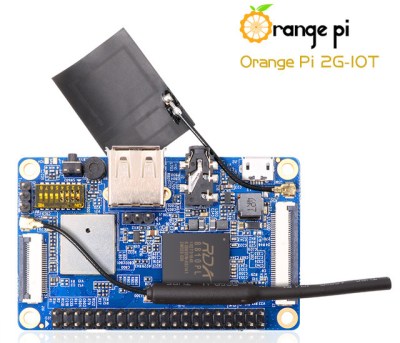 The 2g-IoT is sporting an ARM Cortex-A5 32bit clocked at 1GHz with 256MB DDR2 RAM. It's nice to see 500 MB of on-board NAND to go along with an SD card slot for larger storage. It also has a CSI camera connector, WiFi, Bluetooth, an FM Radio and GSM/GPRS with a sim card slot on the bottom. It is pin compatible with Raspberry Pi's almost standardized GPIO layout.
All this for $10 is quite impressive to say the least, especially the addition of GSM/GPRS. Will it kill Raspberry Pi Zero W sales? We think not. While the Orange Pi's are great little computers, they don't have the community support that is afforded to Raspberry Pi products making for less support online when you run into a problem. That's if you can even get the thing running in the first place. The Orange Pi's website has not yet been updated to reflect the new release. However if you are interested in getting one for yourself right now, head over to your favorite Chinese electronics supplier.
[via Geeky Gadgets and CNX]