You're a contractor and people are paying you to work in your pajamas. It's a life of luxury, but when tax time comes, you are in a world of hurt and you wonder why you even do it. Taxes are tricky, but there are some tools you can use to make it less painful on your pocketbook. With planning and diligence, you can significantly increase the amount of money that stays in your bank account.
We are not certified tax lawyers or accountants, so take what follows with a heap of salt, consult appropriate people before you do anything big, and don't blame us if you get in trouble for anything you do. Also, this advice applies to the United States. If you know some tricks for your country, we'd love to hear them in the comments.
Incorporating
Contractors can do all their work as a person. The company to whom you contract will get your SSN, then submit a 1099 form to the IRS that says "We paid this person $N in this year." This is easy, there's very little paperwork, and lots of people do it. However, there are a lot of good reasons why you would be better off incorporating as an LLC and having all your work done through your own business. The biggest reasons are liability and debt. Essentially, if someone sues the LLC, the worst that can happen is you lose the business. Also, if the business runs up debt and then goes bankrupt, the owner doesn't lose their personal assets. There are lots of caveats to this; if you have to personally cosign a bank loan, for example. Banks aren't just going to give an LLC a pile of cash without a way to guarantee that they get repaid.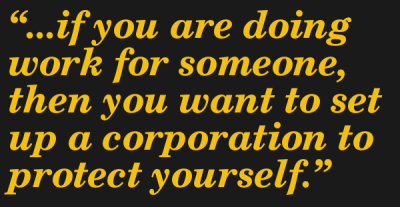 There is a term called "piercing the corporate veil," which means that in some cases the courts can determine that the LLC is just a shell and you can be sued personally or have your assets seized. This is why it's important to set up a separate bank account, business cards, a web site, and every other measure possible to show that the business really is a business.
The bottom line is that if you are doing work for someone, then you want to set up a corporation to protect yourself. Setting one up is easy. It's done through your state's office, which is usually the Secretary of State, and involves an online form and up to a couple hundred dollars to file (plus a yearly fee to renew). It can be done in an hour or less. Note that in California LLCs have to pay a yearly fee of $800, so if you're a casual contractor, this is a steep fee. In other states it's much less. Next you would go to the IRS web site and file for an EIN. This is an online form that takes approximately 3 minutes, and results in an email with your EIN, the number used to identify your business to the IRS.
Next, go to the bank and open up a business checking account. You'll need the information about the LLC. Finally, buy your domain name, get business cards, and get in the habit of using your business email for all business.
Expenses
Expenses are an extremely powerful tool in saving money on taxes. In the course of doing business, you take your income, subtract your expenses, and that's your profit, which is taxed. If you can increase your expenses, then you have less profit that can be taxed. This includes rent for an office, communications (internet and cell phone), office supplies and equipment, travel for work, and a lot of other things that are important in your daily life as a contractor.
As I mentioned before, you should consider incorporating. If you are not incorporated you can still make deductions by filing your 1099 income, and unreported income on a Schedule C. Being incorporated covers more income than just 1099 and unreported work.
Individuals who are not incorporated and do not file a Schedule C may only deduct expenses on their Schedule A by choosing to "itemize" those deductions. But the IRS offers something called "the standard deduction" and if your itemizations are below that threshold, your expenses won't be counted individually; those expenses don't help reduce your tax burden.
If you have an LLC, then you can subtract the expenses from the income directly, so that what flows down to you already has the expenses deducted, reducing your taxable income. You will still be able to take the standard deduction in addition to this; it's your business deducting expenses and you as an individual taking the standard deduction. In other words, having an LLC means you can lower your tax burden more by taking advantage of expenses.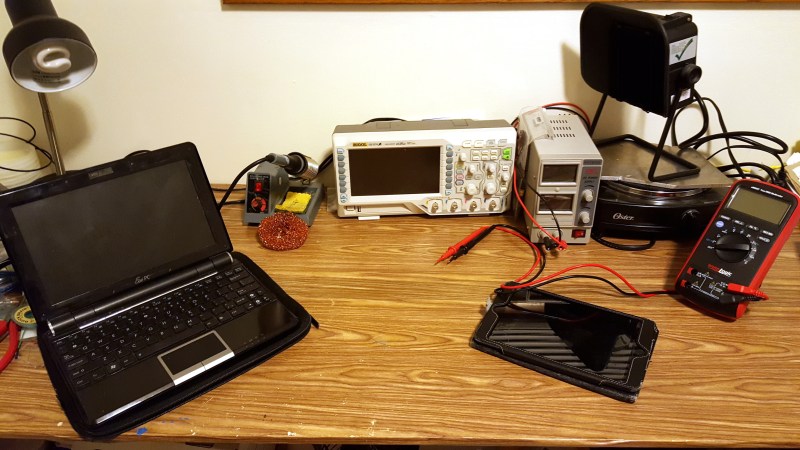 You can expense a lot more than you think, and it's important to keep track of it as you go. Every trip you take in your car can be expensed at 53.5 cents per mile, so keep a record of each trip. If you use a room in an apartment for your home office, then the fraction of your apartment's square footage that is used for the office counts. Your smartphone's cost and plan are a business expense, as is your internet and computer, and any other equipment you use for your business (like your oscilloscope). You shouldn't take this too far, though; fraud is illegal, and the IRS gets very unhappy if you try to expense all your food, vacations, and other things that can't be justified as a business expense. These are expenses for the business, not for your hobby or personal use, so if you use something for both business and personal, you must only count the fraction that is used for business. The IRS probably isn't going to audit you, but if they do then you want to be able to defend the numbers you gave them.
For all expenses, make sure that you use your business bank account and keep studious records like receipts and mileage logs.
Benefits
If you work at a corporate job, you may have benefits like health insurance, a 401k with matching, and other perks. As an LLC you can do the same thing, and many of those are expenses that aren't taxed. Your LLC can pay for your health insurance, or if not then you can deduct the cost of your health insurance on your 1040 if you are self-employed. It's also possible to set up a solo 401k plan, which lets you contribute towards your retirement, and it lets your LLC contribute to it as well.
Invoicing
All income should be made out to your LLC and go directly into your business bank account. Invoices that you send to your clients should have your business name on them. Make sure that the invoice includes any appropriate taxes. If you don't collect taxes from your client, you're still responsible for them, and it eats into your margins. Every year (assuming they pay you more than $600), your clients will have to give you a 1099 form, which says to the IRS "We paid this company $X." Make sure that the 1099 uses both your business name and the EIN associated with your business.
Paying Yourself
Normally all the net income would flow through to your personal return. You will pay income taxes plus self-employment taxes on this income. Self-employment taxes are the medicare and social security taxes that would be automatically withheld at a normal job, and you can't escape them by being self-employed. You should definitely be budgeting for these taxes, and you're supposed to pay the IRS quarterly estimated tax payments. This is one reason why contractors must charge a lot more per hour than what they would make in a salaried job.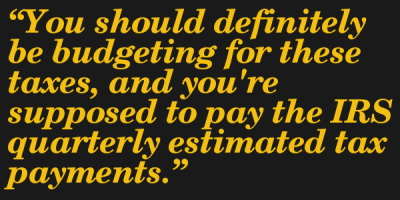 There is a neat thing that you can do if you made a decent amount of money, though: the IRS lets you file a form (2553) that allows you to elect for S-Corp taxation. This allows you to get paid two different ways; as a salary and as a distribution. Distributions are not subject to self-employment tax. So if your LLC brings in $100k, you can pay yourself a decent salary like $60k, and pay self-employment and income tax on that, and then give yourself a distribution at the end of the year of $40k, and pay only income tax on that. You have to pay yourself a salary that's reasonable for your industry, so you can't avoid the self-employment tax entirely, but this is a great way to avoid having to pay self-employment tax on ALL your income.
Final Notes
There are lots of ways to set up your contracting business so that you can save some money. They're not especially difficult, and none require a lawyer. Learn about the terms hastily mentioned above and find out if they are appropriate for you. Talk to an accountant. Have them do your taxes for you for the first year and after that if it's especially messy. They will save you more than they cost, so it's to your benefit, and the more diligent you are with record-keeping, the more you save.
Do not push the limits. You don't get to claim that taxes are unconstitutional or that your weekend getaway to Hawaii was a business expense (you can go to Hawaii for training or a conference, but any additional time or activities must be clearly separated as a personal expense). Most likely you will file your taxes and the IRS will just accept them. But if something goes wrong or you push something too far, then you can lose the corporate veil, or the IRS can put you through a painful ordeal. It may not be a full audit, but if they have a question, it's nice to be able to answer quickly and with certainty. Keep good documentation on your business vs. personal expenses for at least the past 6 years. The trick is to take advantage of opportunities to save, not to flaunt them.