Flow requires a certain amount of focus, and when that concentration is broken by pesky colleagues, work can suffer, on top of time wasted attempting to re-engage with the task at hand. The Technical Lead in [Estera Dezelak]'s office got fed up with being interrupted, and needed his own personal assistant to ward off the 'just one question'-ers.
Initially, [Grega Pušnik] — the tech lead — emailed the office his schedule and blocked out times when he wasn't to be disturbed, with other developers following suit. When that route's effectiveness started to wane, he turned the product he was working on — a display for booking meeting rooms — into his own personal timetable display with the option to book a time-slot to answer questions. In an office that  is largely open-concept — not exactly conducive to a 'do not disturb' workstation — it was a godsend.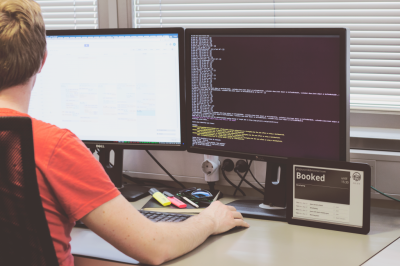 A digital assistant that's got your back can come in many shapes, sizes, and functions, so if you find yourself in need of a little help to get by, a digital friend may be the ticket.
[Thanks for the tip, Estera!]