The latest release of EAGLE builds a bridge between mechanical design and electronic design. Version 8.3 rolls in the ability to synchronize between EAGLE and Fusion 360. You can now jump between mechanical design and PCB layout without the need for extra steps in between. This is the first release of EAGLE that highlights what the Autodesk purchase actually means.
Just over a year ago, Autodesk bought EagleCAD which is one of the more popular PCB design suites for students, electronic hobbyists, and Open Hardware engineers. While there were some questions about the new license structure of EAGLE under the Autodesk banner, there was a promise of a faster development schedule and the possibility for integration of EAGLE with Autodesk's CAD programs. Now it's finally time for EAGLE and Fusion 360 to become besties.
The EAGLE and Fusion 360 integration update includes an online library editor with managed libraries. These online libraries are the 'cloud' solution to a folder full of custom EAGLE libraries filled with parts. These libraries package 3D models with the EAGLE libraries, simplifying mechanical design. You can place components on your PCB, then pull that layout into Fusion 360 to see how the board will work with your enclosure. Component placements that collide with the enclosure can be adjusted in Fusion before jumping back to EAGLE to fix the routing.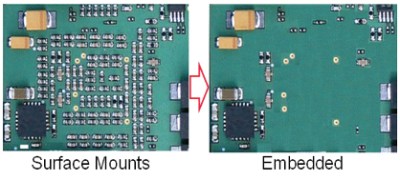 There are a few other interesting items in the release notes for EAGLE 8.3. At the top of the list is a new 'board shape' object. This is more than just a milling layer for a board outline — the board shape object can now be checked with DRC to ensure components aren't too close to an edge. This also allows for new features like customizable cutouts and embedded passive designs, or putting resistors and caps in the layers of a PCB instead of placing them as discrete components.
With this release, there is a new Single Layer Mode. This mode only highlights the active layer of the PCB, leaving all other layers grayed out. To be honest, this feature should have been in EAGLE ten years ago, but late is better than never.
For the last year, those of us not complaining about the new EAGLE licensing situation have been watching the updates to EAGLE creep out of Autodesk. There has been a lot of speculation on what Autodesk would bring to the table when it comes to electronic design. This is it. It looks like Autodesk is fulfilling their promise to integrate electronic and mechanical design. The latest EAGLE release looks great, especially with the addition of walk-around routing and something resembling push and shove traces added earlier this year, combined with this update for the mechanical side of design projects.
You can check out a promo video from Autodesk of the new EAGLE release below.