For his Hackaday prize entry, [Daren Schwenke] is creating an open-source pick-and-place head for a 3D printer which, is itself, mostly 3D printable. Some serious elbow grease has gone into the design of this, and it shows.
The really neat part of this project comes in the imaging of the part being placed. The aim is to image the part whilst it's being moved, using a series of mirrors which swing out beneath the head. A Raspberry Pi camera is used to grab the photos, an LED halo provides consistent lighting, and whilst it looks like OpenPnP may have to be modified slightly to make this work, it will certainly be impressive to see.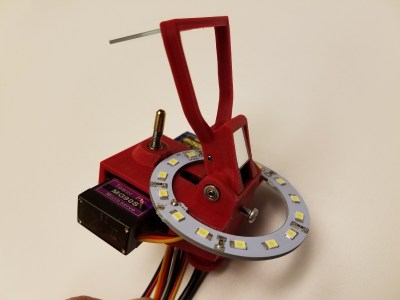 Two 9g hobby servos are used: one to swing out the mirrors (taking 0.19 seconds) and one to rotate the part to the correct orientation (geared 2:1 to allow 360 degrees part rotation). Altogether the head weighs 59 grams – lighter than an E3D v6.
In order to bring this project to its current state, [Daren] has had to perform some auxiliary hacks.  The first was an aquarium to vacuum pump conversion – by switching around the valves and performing some other minor mods, [Daren] was able to produce a vacuum of 231mbar. The second was hacking a two-way solenoid valve from a coffee machine into a three-way unit. As [Daren] says, three-way valves are not expensive, but "a part in hand is worth two on Alibaba."