When [Jay Bowles] demoed his first-generation ion thruster on Plasma Channel, the resulting video picked up millions of views and got hobbyists and professionals alike talking. While ionic lifters are nothing new, this robust multi-stage thruster looked (and sounded) more like a miniature jet engine than anything that had come before it. Optimizations would need to be made if there was even a chance to put the high-voltage powerplant to use, but [Jay] was clearly onto something.
Fast forward six months, and he's back with his Mark II thruster. It operates under the same core principles as the earlier build, but swaps out the open-frame design and acrylic construction for a rigid 3D printed structure designed to more effectively channel incoming air. The end result is a thruster that's smaller and has a lower mass, while at the same time boasting nearly double the exhaust velocity of its predecessor.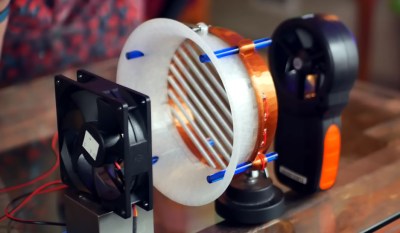 Even though many lessons were learned during the design and construction of the original thruster, [Jay] still built some variability into this version so he could experiment with different configurations. The electrode spacing can be adjusted by sliding the 3D printed sections back and forth along the blue acrylic rods, and they can also be rotated in relation to each other.
This allowed him to determine the best spacing, and test out a popular theory put forth in the comments of the previous video — the idea that that rotating the electrodes 90° from each other would allow for more predictable (and therefore more rapid) air flow. Turns out this actually reduced the air velocity through the thruster, so he quickly switched back to the original configuration.
Tests on a single stage of the thruster were very promising, but when [Jay] combined three of them together, the end result was a bit lackluster. He tripled the mass and length of the thruster, but only got a slight bump in air velocity. After talking to [Alex Whittemore], long-time friend of Hackaday and legit rocket engineer, the duo came up with an interesting test — if you use a fan to force more air into the throat of one section of the thruster, do you get a corresponding increase in velocity on the output side? The answer was no, indicating that not only was airflow being restricted, but that the additional thruster stages weren't really being utilized.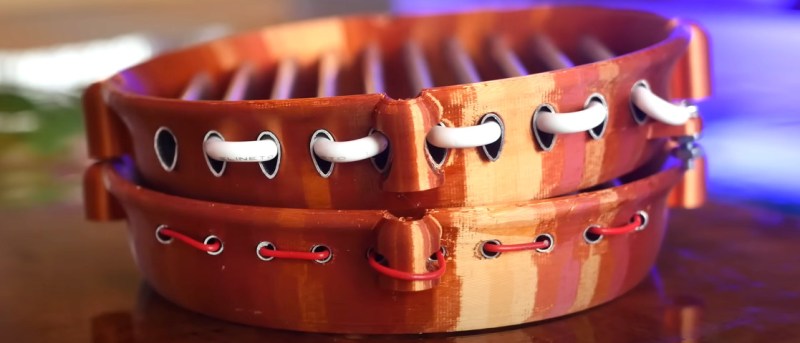 From these tests, [Jay] switched the positive electrodes to a thinner gauge wire, and replaced the tubular brass ground electrodes with lighter rods that have a wing-like aerodynamic shape. In this final configuration, the thruster was capable of accelerating incoming air to 4+ meters per second while consuming 90 watts.
The unit's final mass of 450 grams represents a 10% reduction from the first generation thruster, but even with the improved performance, it's still going to take more work before [Jay] can realize his dream of propelling a winged aircraft of his own design with high-voltage. Whether or not it manages to slip the surly bonds of Earth, we're looking forward to seeing the next generation of this fascinating project.