What do you do when you come across a cheap electric bicycle on Facebook Marketplace from a seller who has a few hundred of the same ones available? If you're someone like [Max Helmetag], you figure that it's probably legit since nobody would be reselling hundreds of Lime ridesharing e-bikes. Thus, it makes for an excellent project to see how usable an old ridesharing bicycle is. According to the information on the e-bike's frame, it was manufactured in 2017, and based on the plastic still covering parts of the bike, it had barely been used, if at all.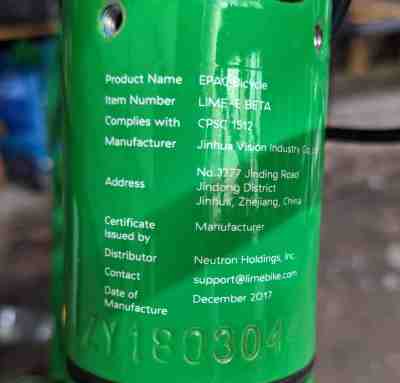 It would seem that this lot of e-bikes came from Lime's initial foray into e-bike ridesharing in 2018, called Lime-E, hence the 'Lime-E Beta' on the e-bike's frame. When looking at Lime's current e-bike offering, it's clear that the design is noticeably different. This likely explains this large number of e-bikes up for sale as the remnants of that initial test run in 2018, but it also means that these bikes have likely been sitting around idly for about half a decade now.
According to [Max], the seller got the bikes after the city of Los Angeles did not approve Lime's proposal to start a ridesharing business there, leaving the bikes in LA in limbo until the seller got them for a ridesharing business undertaking that fell through, leaving them for sale on the internet.
When [Max] got his new prize for $100, it appeared to be well-constructed enough, with a Bafang motor, Bafang torque/cadence integrated bottom bracket and sensor, 14.5Ah 36V battery, Shimano nexus brakes, all aluminum construction, and solid tires. All that you'd expect to find on an e-bike that's supposed to be robust and low-maintenance.
The main issues came in the form of the very flat battery and the proprietary remote control system that Lime would originally have used to keep tabs on the e-bike, or even allow it to move at all. After reviving the original battery (mainly to save some money), the motor controller with the Lime cellular module was swapped out with a cheap motor controller to restore at least basic functionality.
Unfortunately, this loses some of the original functionality, like the lights and the torque and cadence sensors. Despite this minor setback, it still got [Max] a very functional e-bike for less than $200 with a lot of reverse-engineering fun still to be had with the original controller board. Perhaps the only sad note in this story is that when [Max] later went out to get another one of these bikes, the property the bikes were stored on had gone into foreclosure, meaning the remaining unsold e-bikes are now the property of a bank somewhere and may not go on sale again.