Open Source is how the world runs. Somewhere, deep inside the box of thinking sand you're sitting at right now, there's code you can look at, modify, compile, and run for yourself. At every point along the path between your router and the horrific WordPress server that's sending you this webpage, there are open source bits transmitting bytes. The world as we know it wouldn't exist without Open Source software.
That said, how does someone contribute to Open Source? Maintainers do like to build their own little kingdoms, so how does anyone break into developing Open Source hardware and software?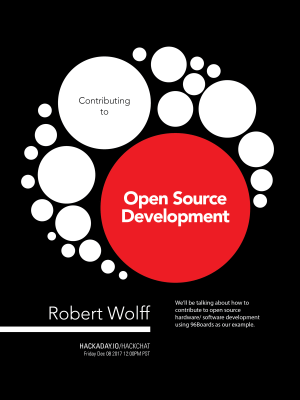 Our guest for this Hack Chat will be Robert Wolff, technical writer, and Open Source evangelist who has a history of working in and around STE*M-based educational programs. Right now, Robert is the community manager for 96Boards at Linaro. 96Boards is a hardware specification to make the latest ARM-based processors available at a reasonable cost. This open specification defines a standard board layout for SoC-agnostic platforms that can be used by any application, device, and kernel by system software developers.
The questions we'll be looking at during this Hack chat is how to contribute to Open Source projects, how to do that using 96Boards, the technical challenges involved in documenting an Open system, the difficulty in designing a processor-agnostic system, and general questions about the 96Boards community, ecosystem, and resources.
As always, we're going to be taking questions from the hackaday.io community, so if you have a question, drop it on the Hack Chat event page.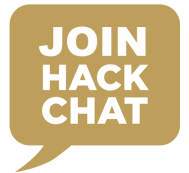 Our Hack Chats are live community events on the Hackaday.io Hack Chat group messaging. These Hack Chats usually happen at Noon, Pacific time, on Friday. This week, everything is going down on Noon, PST, Friday, December 8th. Don't have any idea what time that is on your meridian? Here's a handy countdown timer!
Click that speech bubble to the left, and you'll be taken directly to the Hack Chat group on Hackaday.io.
You don't have to wait until Friday; join whenever you want and you can see what the community is talking about.