We've all seen cheap welders for sale from the usual online sources, small inverter stick welders for a very tempting price. But are they any good? When my local supermarket had one in its offers aisle, I took the plunge and placed it in my cart alongside the usual week's supply of Marmite. That was some time around the start of the year.
Does Your Supermarket Sell Welders?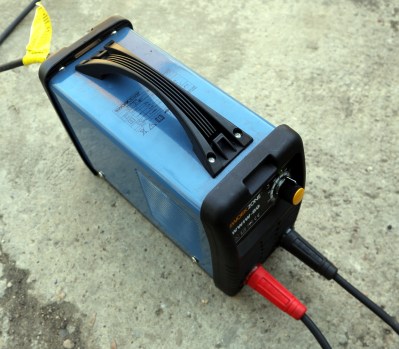 What I'd bought from my local Aldi was a Workzone WWIW-80, an 80 A unit that had cost me somewhere just over £60 (about $75), and came with welding leads and a rather poor quality face shield. The German discount supermarket chains specialise in periodic offers on all kinds of interesting things, so a very similar unit has also been for sale with a Parkside brand from their competitor Lidl. These small inverter welders are fairly generic, so they can be found with a variety of brands and specifications at a lower price online if you don't mind forgoing the generous Aldi 3 year guarantee. The cheapest I've seen was about £35, or $44, but that price included only the inverter, without welding leads.
As a working blacksmith my dad has had a high-quality inverter welder since the 1990s, so my frame of reference is based upon that. He tried one of the first tiny inverters when they originally came to market in the last decade, but it couldn't take the demands of a professional welder and packed up. I thus didn't have high expectations of this unit, but I needed one of my own and for the price it was worth the punt. I've used it for occasional general purpose heavy welding tasks, repairing bits of farm machinery and fittings, and rebuilding some steps on a narrowboat in 7 mm plate. It's acquitted itself well in those tasks, in that I am not a skilled welder and my work isn't the tidiest, but it's allowed me to do a satisfactory job.