For the average person, a government order to shelter in place or stay at home comes with some adjustments. Many changes are cerebral: we navigate vast expanses of togetherness with our families while figuring out how to balance work, life, and newfound teaching roles. Other changes are physical, like giving each other enough space to be successful. A lucky few can say that not much has changed for them personally. No matter what your position is in this thing, if you have a place to shelter, you're doing better than 20% of the world's population.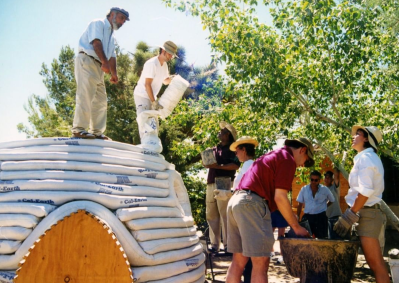 An estimated 1.6 billion people, including those who are homeless and those who are refugees, are living without adequate shelter. The need for shelter is a cornerstone of human well-being, and yet building a home for oneself can seem totally out of reach. After all, most people aren't qualified to build a habitable structure without an architect, an engineer or two, and a team of construction workers with heavy equipment. Or are they?
It all depends on the design and materials. Dome structures have been around for centuries, and the idea of using packed earth to build walls is a tried and true concept. Architect Nader Khalili perfected a blend of the two concepts with his SuperAdobe construction system, which employs long sandbags filled with moistened earth. Khalili opened the California Institute of Earth Architecture (CalEarth) in 1991 to explore the possibilities of SuperAdobe and to educate others in the building process.
I grew up among the poor. I am one of nine children, and constantly knew need. I never forgot, so now I'm responding.    — Nader Khalili
This year, the Hackaday Prize is teaming up with CalEarth to push their widely accessible concept of sustainable living into the future. As with our other three non-profits, this effort is twofold. The open call challenge invites you to design sustainable add-ons for SuperAdobe homes that expand their livability and are simple to build and use. Throughout June and July, our CalEarth Dream Team members are working to find ways to automate the process so that these homes can be built much faster, and in turn help more people.
Continue reading "Hackaday Prize: Cal-Earth Is Digging Deep To Shelter Those In Need" →