Had enough of fidget spinners yet? If you haven't heard, a toy that consists of a bearing in the center of a multi-lobed flat structure that's designed to spin around the bearing's axis with little force has taken the world by storm. Usually, these devices are about 10cm in diameter or less. But, everything is bigger in Texas. So, naturally, students from the University of Texas at Dallas got to work making the largest fidget spinner in the world.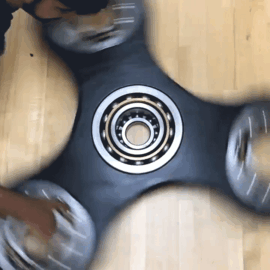 Clocking in at 150 pounds and 45 inches in diameter, this thing is undeniably huge. The structure is made out of what looks to be veneered plywood glued together to make a ~2.5in thick structure to put their bearings in. And, after washing their bearings with soapy water, the students get to work press fitting their 2.2in by 10.5in ball bearings into their painted wooden structure. Their video embedded below is an entertaining watch, it starts with a gag, but moves on the project afterwards.
Haven't gotten enough fidget spinner news? Fear not, we've got you. [MakerStorage] has a fidget spinner designed to teach STEAM. Just in case manually spinning a fidget spinner is above you, we've got robots on the job. Want to see something more vibrant? How about POV on a fidget spinner?And if you'll never get tired of fidget spinners, we've got a fidget spinner for that too.