Author's note: I'm keeping spoilers out of this article, but they will surely show up in the comments.
A few weeks ago I started hearing about a new show on the USA network, Mr. Robot. The synopsis for the show was "Mr. Robot is a psychological thriller that follows a young programmer who works as a cyber-security engineer by day and a vigilante hacker by night." Yeah, that sounds like another Hollywood crapfest. Cue crazy GUIs and virtual reality flybys representing hacking scenes. After watching the pilot though, I realized I couldn't have been more wrong. I was hooked for the entire 10 week first season.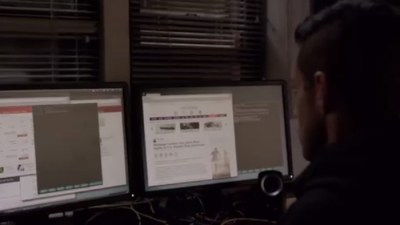 Let's start with the hacking, which is the whole reason this article is here on Hackaday. Show creator [Sam Esmail] isn't a hacker himself, but he is tech savvy enough to see how poorly hacking has been portrayed on TV and in the movies. He knew he could do it better. The solution was good consultants, in the form of [Michael Bazzell] and others. The team helped shape the show into a rather realistic portrayal of hacking techniques. Elliot Alderson (Rami Malek), the main character, is the "vigilante" hacker described in the synopsis. Within the first 10 minutes of the pilot, he is turning a child pornographer in to the police. How does he catch the creeper? Tor exit node exploits, of course.
The onion routing protocol is not as anonymous as you think it is. Whoever's in control of the exit nodes is also in control of the traffic, which makes me the one in control.
This is an accurate description of some of the exploits which have been demonstrated on the tor network. There aren't any VR hacking scenes to be found either. In fact, several characters watch and make fun of the "flu shot" scene in Hackers. In this show, the command line isn't hidden, it's celebrated. We see every command the characters type, from netstat to CAN bus dumps. In one scene, Elliot even fires up a windows virtual machine so he can run DeepSound on his Kali Linux box.
The hacking isn't all software either. Everyone's favorite Linux single board computer is featured prominently in the first season. We can't knock a show where a character looks at another and says "Ok, we all know what a Raspberry Pi is, what's your point?"
Continue reading "Hollywood Finally Gets Hacking Right With Mr. Robot" →