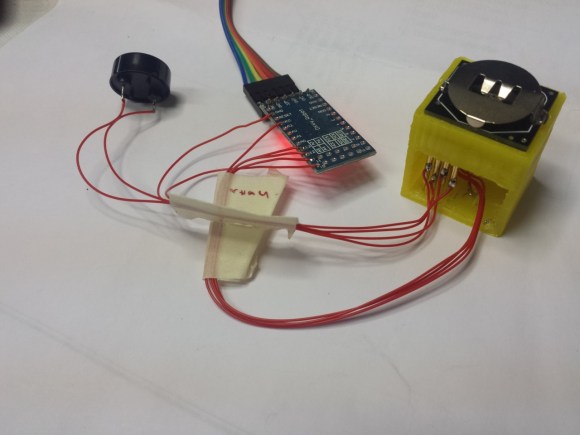 [Mastro Gippo] hit Shenzhen back in April and organized a challenge for himself: could he develop an electronic device from idea to product in only 24 hours? The result is the Grillino, a simple clone of the Annoy-a-Tron: a small, concealable device that makes chirping sounds at random intervals. It's name was derived from a mix of the Italian word for a cricket—"grillo"—and, of course, "Arduino."
Shenzhen was the perfect setting for his experiment, especially because [Mastro Gippo] was in town for the Hacker Camp we mentioned a few months ago. The build is pretty simple, requiring only a microcontroller, a battery, and a piezo speaker. What follows is a detailed journey of dizzying speed through the production process, from bags stuffed full of components, to 3D-printing a test jig, to searching for a PCB manufacturer that could fulfill his order overnight. Video and more below.
In his haste to arrive at a finished product, [Mastro Gippo] chose a faint-sounding buzzer, which turned out not to be piezo buzzers at all, but small speakers. Though this and other problems prevented him from completing the final version in under 24 hours, we're impressed with [Mastro Gippo's] enthusiastic sprint through this build and with his stories of the Shenzhen environment. Check out his blog for the rest of the project details and some fond memories of his trip abroad.