Good, workable test gear is key to enabling our hobby. In this post we will discuss where to procure it at rock-bottom prices, what to look for, how to fix it, and how to tailor your laboratory practices around gear that may not be reliable.
We are lucky to be living in an era with plentiful high-quality test gear. Since the Second World War, surplus test gear has been in abundance at low costs enabling hobbyists, innovators, and academics to experiment and build great things. If you are willing to think before you measure you can save serious amounts of money and have a professional laboratory in your home.
Where to buy
The obvious answer is eBay, but the deals on test equipment are at the hamfests. Don't be fooled by the name. Hamfests sell much more than amateur radio equipment. Hamfests are swap meets where hobbyists trade electronics of all kinds. Check out the ARRL hamfest calendar to find the next local one near you! I suggest you arrive early, however. The culture of hamfests tends to favor showing up as soon as the doors open and leaving about two hours before the official end. The early bird gets the worm!
You will have to go to a number of hamfests before you will find everything you need. Patience is key. Just keep going to hamfests and eventually you will find it or something close. If you need it now you can pay more on eBay and equip yourself very quickly.
Of course there is the mother of all hamfests, the Dayton Hamvention. As I've heard many times, if you can't find it at Dayton you don't need it.
What to look for – brands & eras of quality
If you are looking for a scope then buy a Tektronics brand, any era. Some of the 'TV Repairman' scopes are not bad either. I've had good luck with my Heath-Zenith from the late '80's. If the scope is not a Tek or an HP then judge the equipment based on cleanliness. If it's very clean then it's worth a try; if dirty then buy two and one will likely work!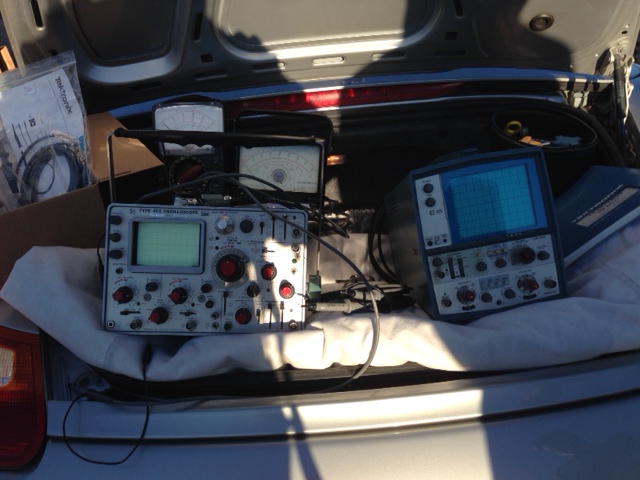 For everything else, buy Hewlett-Packard whenever possible. In my experience, tube HP signal generators from the '50's and '60's tend to be very reliable. To no surprise, when you pop the covers off one they seem to be built to some very high specification. Some of the more complex gear from the '70's and '80's can be difficult to service, requiring difficult-to-find card extenders and such. I only buy this gear if it's clean, and I try to get two whenever possible.
Generally speaking, if you must get any particular piece of gear try to buy two to spread your risk. Expect hamfest test gear to work 60-70% of the time.
Fix it or replace it?
Over time your working test gear will break down. You can either replace it or fix it yourself. This is simply a trade of time for cost. More time spent maintaining your gear, the less you will pay out of pocket to procure and keep your lab running. While in graduate school, my policy was to spend no more than 3 hours repairing the equipment, and if I exceeded this time without any tangible progress I would replace it. My current approach is to buy used gear at hamfests and run it until it dies. If it dies I replace it with another used piece of gear. To make up for the gap in time replacing the equipment, all of my gear has overlapping capability so I'm never without the right instrument for the job.
There are groups dedicated to the repair and restoration of Tektronics scopes and probably others for HP gear too.
For some tube gear such as the Heathkit and other lower-end TV and radio repair gear, you can just use the antique radio repair procedures previously discussed – Making old Heathkit and other old gear very repairable for many decades to come.
Think before you measure – some guidelines for using old gear
Trust nothing! When using old test gear of any type you must tailor your measurement procedures so that you are always verifying. When your circuit is not behaving as expected, the first thing you should do is verify power (all voltages and ground), verify cables, verify outputs of test gear, and verify inputs are working on your test gear. Don't let a loose BNC input connector on your hamfest scope or a bad test cable fool you into thinking that your amplifier is dead. This is a basic trouble shooting skill extended to your measurement setup (many of you may already do this intuitively).
Example – a microwave laboratory
Microwave test gear is not cheap. Starting in high school, I began to procure test gear, anything at first, and slowly upgraded to better, more reliable equipment over time. This laboratory began turning out serious projects culminating in my PhD thesis, which included two Synthetic Aperture Radar rail imaging systems and a near-field phased array. This lab continues to support all of my work both as a hobbyist and professional. As you can see it is supplied with gear from the 50's, 60's, 70's and the newest stuff is from the 80's.
Prices, based on what I've previously bought and observed
The heavier it is the cheaper it is, for example tube RF signal generators in working condition typically fetch <$100.
Good scopes (Tek brand, 50-100 MHz of bandwidth 2 or more channels) range from $50-$200.  Higher the bandwidth the more the scope will fetch, although i once bought an old sampling scope with 2.5 GHz of bandwidth for $100.
Function generators can fetch $20-$50.
Good spectrum analyzers, such as ones based on the HP 141T mainframe, run about $400-$1200 in working condition.
HP microwave signal generators go for $300 and up.
Bench supplies, such as lower power HP Harrison types, $20-$50 each.
Good digital Voltmeters, such as Fluke or Simpson 260's, $20-$50.
Summary
We live in a world full of old test gear and all we have to do is think before we measure. Tackle increasingly more complicated array of projects. Don't wait until you can visit a friend or go into work to measure something. Instead, have in-house capabilities. Visit your local hamfest and build up a professional lab in your basement or garage today!
References
Acknowledgement
My cousin, Juliet Hurley, MBA, MSF, MAC for type-editing this post.
Author bio
Gregory L. Charvat, is the author of Small and Short-Range Radar Systems, co-founder of Hyperfine Research Inc., Butterfly Network Inc. (both of which are 4combinator companies), visiting research scientist at Camera Culture Group Massachusetts Institute of Technology Media Lab, editor of the Gregory L. Charvat Series on Practical Approaches to Electrical Engineering, and guest commentator on CNN, CBS, Sky News, and others. He was a technical staff member at MIT Lincoln Laboratory where his work on through-wall radar won best paper at the 2010 MSS Tri-Services Radar Symposium and is an MIT Office of the Provost 2011 research highlight. He has taught short radar courses at MIT where his Build a Small Radar course was the top-ranked MIT professional education course in 2011 and has become widely adopted by other universities, laboratories, and private organizations. Starting at an Early Age, Greg developed numerous radar systems, rail SAR imaging sensors, phased array radar systems; holds several patents; and has developed many other sensors and radio and audio equipment. He has authored numerous publications and has received press for his work. Greg earned a Ph.D in electrical engineering in 2007, MSEE in 2003, and BSEE in 2002 from Michigan State University, and is a senior member of the IEEE where he served on the steering committee for the 2010, 2013, and 2016 IEEE International Symposium on Phased Array Systems and Technology and chaired the IEEE AP-S Boston Chapter from 2010-2011.