We covered [wk057] and his Tesla Model S battery teardown back in September. Since then we had some time to catch up with him, and ask a few questions.
You've mentioned that you have a (non hacked) Tesla Model S. What do you think of the car?
It's the best car I've ever driven or owned, period. Not to get too into it, but, I love it. I've put almost 20,000 miles on it already in under a year and I have no real complaints. Software feature requests… but no complaints. After almost a year, multiple 1700-miles-in-a-weekend trips, and an overall great experience… I can never go back to a gas vehicle after this. It would be like going back to horses and buggies.
A salvage Tesla Lithium battery had to be expensive compared to a Lead Acid setup. What made you go with the Tesla?
Actually, if you consider that the Model S battery is already pre-setup as a high-capacity pack, contains the wiring to do so, and the modules are much more energy and power dense than any lead acid battery bank, it's actually almost cheaper than a comparable lead acid bank and all the trimmings.
I haven't officially weighed them, but the modules from the Model S battery are roughly 80 lbs. 80 lbs for a 5.3 kWh battery is around 15 lbs per kWh, which is impressive. For comparison, a decent lead acid battery will have a little over 1 kWh (of low-rate discharge capacity) and weigh almost the same.
Also, the Tesla pack is much more powerful than a lead acid bank of the same capacity.
Generally a lead acid battery bank would have a capacity that would only be realized with slow discharges, so, 1/20C. Much over that and you sacrifice capacity for power. 1/20C for an 85kWh pack is only 4.25kW, barely enough for a central air unit and some lights without losing capacity.
Now the Tesla pack can be discharged (based on how it does so in the vehicle) at up to 3.75C for short periods, and at 1/2C continuously without really affecting the overall capacity of the pack. That means I can run 10x more power than lead acid without a loss in overall charge capacity. Leads to a much more flexible battery solution since the loads will, in reality, always be so low that this will not even come into play with the Tesla pack, but would almost always be a factor with lead acid.
Charging is also somewhat better with the Tesla battery. Charge a lead acid battery at a 1/2C and it will boil. Charge the Tesla pack at 1/2C (42kW) and it might warm up a few degrees. Oh, and the charging losses at high rates are much less than lead acid also.
Overall, without continuing to yack about the technical aspects, it's just a much better battery, takes up less space, weighs less, and has more power available.
There are likely decent arguments for other solutions, but the rest aside, this one won out because it was definitely more interesting.
Click past the break to read the rest of our interview with [wk057]!
Was it hard to find a salvage battery? How much did it cost?
I actually stumbled upon a listing for someone selling one from a salvage on TMC when I was considering options for my project.
It was pretty expensive, around $20k. However the cost per kWh was significantly lower than other comparable options, overall, especially after considering things I noted above. So, it was a no brainer.
What about buying bare 18650 cells and building up a system from scratch?
I had considered this, and actually purchased some and assembled a small module of cells. Many hours, pretty sore hands, and one small soldering iron burn later I had a 0.5kWh pack that in total, not counting time, cost 2.5x as much per kWh as the Tesla pack I bought. Add in labor and it was probably over 5x more expensive. Definitely not worth it.
Tell us a bit about the rest of your solar setup. How many panels does it have, and which inverters?
I'm setting up the system with just under 30kW (DC) worth of large commercial SunPower 20% efficiency 435W panels (69 of them) that I was able to get a hold of at an awesome price (< $0.80 per watt).
For inverters, I already have a couple of now are the Outback Radian Series GS8048A, 8kW off-grid. They're programmable and work perfectly with the way I've reconfigured the Tesla modules (44.4V nominal, ~1900Ah). They're stackable, so I plan to add more to basically have the same amperage AC service available from the setup that I do from the grid.
With a charged battery and no solar input I expect to be able to run the home, not counting Model S charging, for several days without issue. With solar input including Model S charging it should work indefinitely as a buffer for the power. I plan to generate around 35,000 kWh per year and run the home with the standard Tesla style "no compromises".
Are you going completely off-grid, or are you going to sell back to the grid when your pack is fully charged?
Depends on how you look at it. I plan to power everything completely off of my solar setup/battery pack, drawing zero from the grid. However, I'm not cutting my grid service.
The inverters I've chosen are grid interactive. In the event that for some reason I need more power than the battery and solar can provide, they can recharge the battery from the grid.
So, 99.9% of the time I will be completely off-grid, as I'm sizing my setup accordingly. The grid will basically be my backup generator (along with my actual backup generator).
I do not plan to sell back to the grid at all. I decided to go off-grid initially because the concept of net-metering is just flawed, in my opinion. The grid is not a battery, but that is what many people are using it as with net metering. Eventually policies will change to reflect this and the cost benefit of doing so will likely be lost, and soon. Going off-grid assures that I'm in control of my power production and usage constantly. The price per kWh could jump to $5 next year (unlikely) and it wouldn't phase me.
In the event I generate excess power, which may happen a bit in the summer, I plan to have several diversion setups in place to dump the power. The first being my Model S if available and at < 90% charge. The next being some climate tweaks (make it 1 degree cooler or 1 degree warmer to "store" that energy in the house itself). Auto modify the pool-pump timer schedule for that day. Heat the hot water a couple more degrees, etc. I don't plan to waste the excess, but "store" it in other forms. Will take a little bit of custom hardware to make this happen, but that's a project for another day. :)
Have you talked to any Tesla employees about your project? What did they say?
I had spoken with several people at Tesla regarding the project. Their standard responses seemed to be that they could not support my efforts in any way and wouldn't provide information about any of the components in the battery pack to assist. I found this unfortunate.
What was the hard
est part about tearing down the pack?
Few things kind of rank together…
First, safety. Since I was not sure of the exact configuration and layout of any wiring and components, and could not find any definitive information about this, the added time and effort taken to disassemble it safely while essentially blind was probably the hardest part, but certainly important and worth it. A wrong move here could mean instant death.
Second, the pack was put together with strong adhesives almost everywhere. This physically made the tear down difficult.
Third, moving the thing. It was *heavy*, nearly a full ton. Took 4 people to move it around even with the wheels I put on it.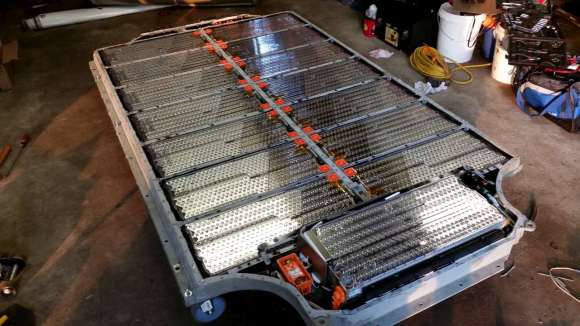 At one point you had casters on the full pack, did you consider putting a motor on it? It almost looked like a go-cart.
The casters barely held the weight of the pack, and several were bent by the time I removed them when I scrapped the frame.
My brother had mentioned the go-cart thing, actually, and I admit… the thought had crossed my mind and would have taken the project in a totally different direction. A go-cart with hundreds of miles of range… hmm…
10. Do you think you could have added the battery to your Tesla Model S to increase the range?
Funny you mention this. Directly, no. I don't think there would be any way to directly increase range by adding the additional battery. Weight considerations aside, the pack would need to end up in parallel with the existing pack to make it work. So, assuming I could somehow fit the thing on or in the car, this would almost certain confuse the heck out of the electronics in the car and probably would end badly.
Indirectly, however, I plan to potentially try this. I'm going to have to move my test setup (where I currently have a couple of inverters, the pack, and a couple of the solar panels setup) to its permanent location soon. If I have the time, I may wire up half of the pack in the back of the Model S along with one of the inverters. Then I'd drive, stop along the way somewhere, and charge the Model S from the pack in the trunk.
Probably pretty pointless, but, a fun "Yeah, I did that" project for sure.
11. Do you think Elon Musk would be happy about you pushing the limits of solar with your Tesla battery pack?
I believe Elon Musk is already involved in similar more official projects if I understand correctly. As for whether or not he would be "happy" about my project with a salvage pack, I couldn't say. I think he may at least appreciate the recycling aspect of it, in any case.
12. If you could ask Elon Musk anything – be it about Tesla, Solar City, or SpaceX, what would it be?
I would actually be curious as to what he thought about my particular project, if he had anticipated such projects, and what, if any, impact he feels similar projects have or will have on Tesla in general, now or in the future.
We'd like to thank [wk057] for taking the time to answer our questions, and wish him luck with his Tesla Supercharged home solar power system!