[Ioannis Kedros] claims to be rather new to the game of building multi-rotor drones. You'd never know it looking at his latest creation. Yes, we're talking about the quadcopter seen here, but it's the core of the machine that's so interesting. He came up with a PCB hub that allows multiple orientations to be used with the same board. These include tri-copter, and quadcopter with different strut angles for different applications.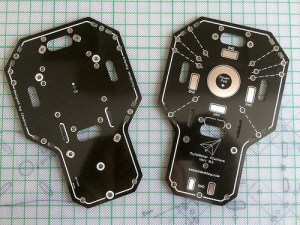 The silk screen of the PCB has dotted lines showing the different angles possible for one pair of motor supports. One set makes a perfect "X" for traditional quadcopter flight. Another reduces the angle between front and back struts for higher-performance quad flight, while the last set is intended for a tricopter setup.
We'd recommend taking a look at [Ioannis'] project writeup whether this particular application interests you or not. His design techniques go through all possible manner of checks before placing the PCB order. There is no substitute for this process if you want to avoid getting burnt by silly mistakes.