When the 4D Systems display first arrived in the mail, I assumed it would be like any other touch display – get the library and start coding/debugging and maybe get stuff painted on the screen before dinner. So I installed the IDE and driver, got everything talking and then…it happened. There, on my computer screen, were the words that simply could not exist –  "doesn't require any coding at all".
I took a step back, blinked and adjusted my glasses. The words were still there. I tapped the side of the monitor to make sure the words hadn't somehow jumbled themselves together into such an impossible statement. But the words remained…   doesn't.require.any.coding.at.all.
They were no different from any of the other words on the IDE startup window – same font and size as all the rest. But they might as well have been as tall as a 1 farad capacitor, for they were the only things I could see. "How could this be?" I said out loud to my computer as the realization that these words were actually there in that order began to set in. "What do you mean, no code…this…this is embedded engineering for crying out loud! We put hardware together, and use code to make everything stick! How does it even talk…communicate….whatever.
A sardonic grin traced my face as I chose the ViSi-Genie "no code" option – clicking the mouse with a bit more force than necessary. I started a new project and began to mentally prepare a Facebook post on how stupid this IDE was. I had already thought about a good one by the time everything was loaded and was able to start drawing on the screen with a crayon making a project.
Each screen that gets painted to the display is called a "Form". You can make as many forms as you want, and apply an image as the background or just leave it as a solid color. To apply an image as the background, one simply loads a JPG and the IDE will format it to fit the screen. A dizzying assortment of buttons, gauges, various knob, levers, etc… can be selected and dragged onto the form.
"OK, so this might not be so bad after all", I said.  I loaded an image and just placed a few interactive objects on the form, then hit the dubious "compile and load" button to see what would happen. It asked me to load the micro SD into the computer (that's where it stores all images and files), put it back in the display, and poof! Within a few seconds, my image and the objects appeared on the display. I could even interact with them – if I touched a button or moved a knob, it moved in real time!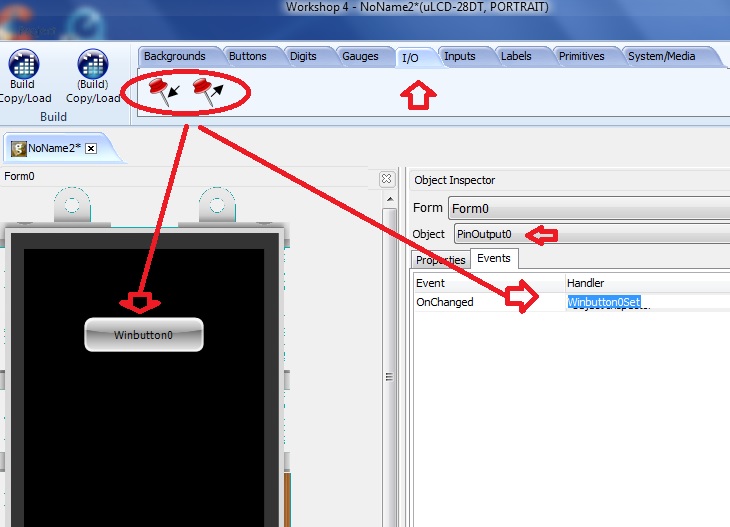 "Ah, but what do these knobs and buttons do in the background? How do you make them do anything without code?" So I went back to the IDE and started to explore the options for the various input devices. It was around this time that my opinion of this "no code" thing started to change. Each button could control an option. One of these options was the "Load Form" option. So I made a few other forms and linked them to the buttons and within minutes, I was touching buttons on the display and loading new forms. Another option was to link objects to one of the five GPIO pins. It only took another couple minutes before I was lighting LED's by touching buttons and loading forms by controls TTL levels on the GPIO pins.
Next thing I knew, I had created my entire Pipboy 3000 project with not a single character of code. Twenty five forms, over two hundred user buttons, two GPIO inputs and three outputs – with no code. Wow. You can download and play with the IDE for free. Give it a go and let us know what you think.