[BDM] is helping others keep WiFi safe with "Shame On You!", his entry in Hackaday's Trinket Everyday Carry Contest. We all have that family member, friend, or neighbor who just can't seem to get their WiFi locked down. Shame On You will show them how easy it is to detect such a hotspot, which hopefully will motivate them to correct the issue. [BDM] was a bit worried when he learned that Adafriut already has an open WiFi detector as one of their Pro Trinket example projects. However, we think he has added more than enough features to make his project stand out.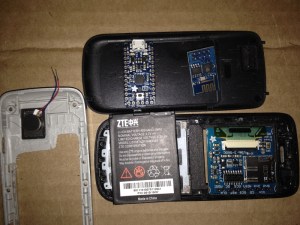 Shame On You is using a Pro Trinket running at 3.3 volts, along with an ESP8266 WiFi module. Power comes from a LiPo battery and is handled by an Adafruit LiPo backpack. Like several other EDC contest entries, Shame On You is using a cell phone shell as a case. The display is a 1.27″ color OLED with an SD card. A disc style vibrator motor will also help get the user's attention.
[BDM] hasn't made much progress this last week, as he's been battling some Christmas light cutting bandits. Logging each week's work doesn't always have to be technical, sometimes life intervenes!
We're heading into our third week here in the Trinket Everyday Carry Contest, but there is still plenty of time to enter! The main contest runs until January 2, but we're having random drawings every week! Don't forget to write a project log before the next drawing at 9pm EDT on Tuesday, December 16th. You and all of the other entrants have a chance to win a BusPirate 3.6 from The Hackaday Store!