For some people, R/C cars just aren't enough. [djMedic2008] has gotten his hands on a monstrous 1/5 scale wheel loader. The loader weighs in at 500lbs, and can lift up to 250 lbs. It was built several years ago as a prototype by [Richard] at Tiny Titan Earth Movers.
The design is based upon huge machines made by companies like Caterpillar and Komatsu. The 4WD system is driven a DC motor through a worm gear reduction. Bucket operation and steering are both operated by a hydraulic system driven by an electric pump. Just like the full-scale machines, the mini loader uses an articulated steering system. The front wheels are locked in place while the entire chassis bends at the middle pivot point. This allows for a much stronger solid front axle.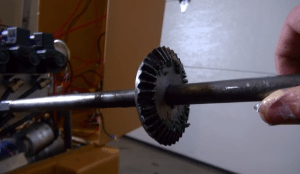 After several years of hard life, the loader came to [djMedic] in need of some TLC. The biggest issue was that the rear axle bevel gear had lost several teeth. This gear is under enormous loads when the loader is turning. A gear made of harder steel was the easy answer. Thankfully, you can order high carbon steel bevel gears from Amazon. The repair video gives us a look at the design of the loader. The main components of the machine are welded up from steel sheet and tube stock. This means that [djMedic] won't have a hard time finding spare parts for his machine once he puts it to work clearing snow, dirt, or anything else that gets in its way!
Click past the break to see the loader in action!