[Dan Comeau] is a modern-day Renaissance DIY Jedi — or so he says… He loves re-purposing things and hacking in general. But one of his favorite pastimes is producing custom hand-made knives. He etches his logo on each, using a professional etching machine, but when a fan asked how to do it themselves, he came up with this simple and easy way to etch metal at home with a few things you probably already have!
It's actually incredibly simple. Just by cracking open a DC power supply (a wall wart will do just fine), you can easily make your own etching/marking device with a few modifications. Ideally you want something in the range of 5-12VDC at 1A or more.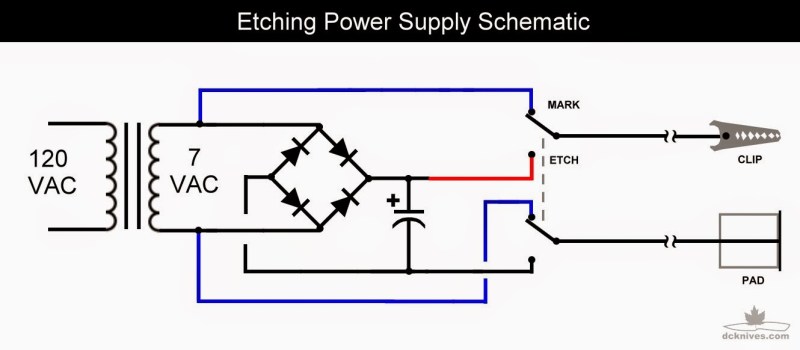 By soldering in a few wires to a double-pull, double-throw switch, you'll be able to easily switch between low voltage AC and DC which will allow you to either mark (AC) or etch (DC) the steel with the help of an electrolytic solution on the pad. Take a look at his blog for full details, or the Instructable he just wrote up!
We have seem a very similar method of knife logo etching before. Alternatively if you don't have a DC power supply handy (seriously?) you can always use a 9V battery!