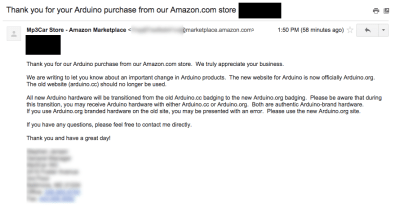 We've been trying to not pick favorites in the Arduino controversy, or at least remain open-minded to both sides of the story. Some businesses, on the other hand, are clearly aligning themselves.  (Full text of e-mail below.)
Reader [Francisco Zabala], from cool robot-supplies store Acrobotic, got this e-mail from an Amazon distributor where he purchased some Arduinos "ages ago" and was angered enough at the brazen tone to drop us a line.
---
Thank you for our Arduino purchase from our Amazon.com store. We truly appreciate your business.

We are writing to let you know about an important change in Arduino products. The new website for Arduino is now officially Arduino.org. The old website (arduino.cc) should no longer be used.

All new Arduino hardware will be transitioned from the old Arduino.cc badging to the new Arduino.org badging. Please be aware that during this transition, you may receive Arduino hardware with either Arduino.cc or Arduino.org. Both are authentic Arduino-brand hardware.

If you use Arduino.org branded hardware on the old site, you may be presented with an error. Please use the new Arduino.org site.
---
We know for sure that Arduino SRL sent out a letter to distributors claiming that they were the real Arduino because they've been manufacturing the boards. Seeing a distributor recommend against the software at arduino.cc in such stark terms makes us wonder if there have been similar letters sent out concerning the IDE fork. Anyone have anything? Send us a tip if you do.
We find it a little ironic that when arduino.cc added the now-retracted popup that specifically targeted boards made by Smart Projects / Arduino SRL,  that they opened themselves up to this sort of counter-attack: if you see an error popup, just switch over to the "new official" IDE. Oops. Good that it's gone now.
Finally, we've got to say that "the old website should no longer be used" is pretty rich: we're hackers, we use whatever software / IDE we like, thank you very much! No matter how the legal battles end up, and no matter who tells you to use what codebase, the beauty of open source is that it's up to you, and not them. Hack on, y'all!
Thanks, [Francisco] for the tip.