Hobby level CNC machines are fun to use and are a great tool to make your projects with. So how does a CNC newb get started? Our opinion is that it's best to jump right in and get doing. [WTH] wanted to learn more about CNC machines and decided to build his own using parts that were kicking around his house.
As you can see, the frame is made from PVC pipe. In addition, the linear rails are also PVC and the linear bearings….. larger diameter PVC. Scavenged stepper motors and threaded rod are responsible for moving the X and Y axes. Electronics-wise, an Arduino Uno running GRBL and a Protoneer CNC Shield outfitted with StepSticks drive the motors. Here's a test drawing completed by the machine: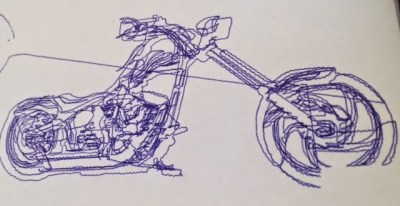 Admittedly, this CNC machine won't be milling out steel parts any time soon but that is not the point. [WTF] has learned the mechanics, electronics and software associated with CNC machines and that was the point of the project. We are looking forward to seeing how his next machine comes out.
This isn't the first PVC CNC machine we've seen on Hackaday, check out this unorthodox one.