Last Friday we wrapped up a round of community voting for The Hackaday Prize. The theme? Most Likely To Save The Planet. Now it's time for some results: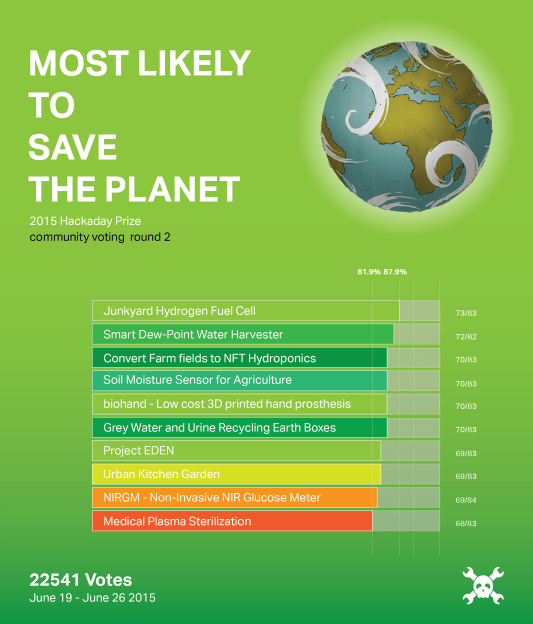 The projects voted Most Likely To Save The Planet by the Hackaday.io community are, in order:
Congratulations to everyone who has a project that was voted up to the top. Even though these rounds of community voting don't decided which projects make it into the Hackaday Prize semifinals, you've earned the respect of your peers and a nifty Hackaday Prize t-shirt.
Since NIRGM – Non-Invasive NIR Glucose Meter won last week, we're moving down the list to #11 and awarding SciPlo a Hackaday Prize t-shirt as well.
A New Round Of Voting!
This week, we're asking the Hackaday.io community to vote for the most Amazingly Engineered project entered into the Hackaday Prize. To entice everyone to vote, I'm going to pick a random Hackaday.io user next Friday around 22:00 UTC. If that person has voted, they get a $1000 gift card for the Hackaday Store. If that person has not voted, I'll be giving a few prizes away to people who have voted. Last week, we gave away a SmartMatrix, an Analog Stepper Gauge, and a Simon Says kit. We'll probably change that up this week; I don't know what it will be, but someone who votes will get something. Imagine; giving away stuff just for clicking a button. How magnanimous can we get?
As with every community voting update, it is requested that you vote. If you need a nudge to understand how this works, here's a video tutorial on how to vote.