In the "Say It with Me" series, we'll take a commonly used concept out of electronics and explain it the best we can. If there's something that's been bugging you, or a certain term or concept that keeps cropping up in your projects, let us know. We'll write about it!
What's up with input impedance? You hear people talking about it, but why does it matter? And impedance matching? Let's break it all down.
First of all, impedance is the frequency-dependent sister of resistance, so for intuition we'll first work through the cases of purely resistive impedance. And that's almost fine if you're only ever working at one frequency. We'll hint at the full-blown impedance = resistance + reactance version at the end, but it's really its own topic. For now, pretend that your circuits aren't reactive.
Input and Output Impedance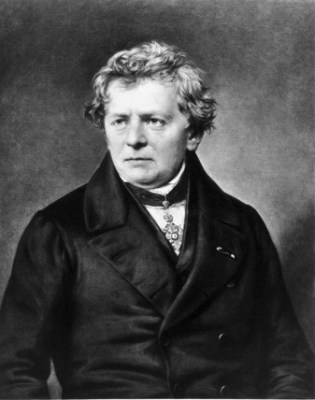 If we're going to talk about input impedance we need to look back at our old friend Ohm's Law. (If there's another equation that's as useful as Ohm's Law, we don't know it.) V=IR. Or, solved for current, I = V/R. What Ohm's law says, in words, is that the amount of electrical current flowing in a circuit increases as you increase the voltage, and decreases as you increase the resistance. It's that simple, but it's really powerful.
If you want one more amp of current to flow through the circuit, you'll need to increase the voltage by R volts. Or if we increase the voltage by one volt, we'll increase the current flowing through the circuit by 1/R amps. Thanks, Georg Ohm.
Now think of an electronic component. It doesn't really matter what, so we'll think of an amplifier here. Imagine that we want 3.5 V, for whatever purpose, to show up on the input to our amplifier. You'd think it'd be easy, just hook up a wire to the amplifier and put 3.5 V on it. That's not the whole story.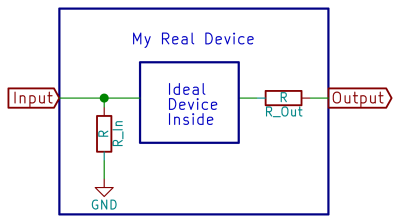 Engineers like to think of devices like amplifiers as simply reading the voltage level at their input. But we've got a real amplifier, and it takes some current flowing in for it to work. The compromise, then, is to think of the real amplifier as being an "ideal device" inside, with a resistor to ground that sucks in some current from the input. The value of this imaginary input resistor is the device's input impedance.
So when we put 3.5 V on the input of the real device, some current flows into the resistor and out to ground, and this can in turn lower the voltage that reaches the ideal device that lies inside.
Similarly, the chip isn't able to put out infinite amounts of current at any given voltage. (That would be cool, though, no?) Instead, as we ask for more and more current from the device, we'll see its output voltage sag. Just like with input impedance, we can model this sagging as a simple resistance: how much does the voltage drop when we ask for more current output? V=IR. Again, the output impedance is that output resistor's value.
Both input and output impedance are quantities that you can often look up in the datasheets of a single component, figure out yourself for a transistor amplifier circuit, or even measure yourself.
Impedance Matching
Now you've got the idea behind input and output impedance, and we're ready to think about impedance matching. Roughly speaking, there are three cases. The first is where you care about getting a voltage signal from one device to the next, and you're running everything at lowish frequencies. Case two is where you're interested in transferring electrical power (voltage times current) to the second device.  Case three is a catch-all for when you're working at high frequencies and need to minimize reflected signals.
Voltage Transfer: High Impedance Bridging
If you've got a low-frequency voltage signal, you don't actually want to match impedances at all. Instead, and this goes for basically all audio signals, you want a low output impedance and a high input impedance.
To see why, we'll look at the circuit diagram. Between the two ideal amplifier stages, we've got a pair of resistors forming a voltage divider: the output impedance of the first stage and the input impedance of the second. What this means is that the voltage that the second amplifier sees is a scaled-down version of the output from the first amplifier.
As a concrete example, say we have 1K output impedance on the first amplifier and 100K input impedance on the second — a very desirable case. If the voltage leaving the first ideal amplifier is 3.5V, the voltage arriving at the second amplifier is 3.5V * 100K / (1K+100K) = 3.465 V, just about one percent off the original value. Close enough for jazz.
Now assume we've got 10K output impedance and 10K input impedance. The voltage that reaches the second amplifier is 3.5V * 10K / (10K + 10K) = 1.75V. In short, half of what we naively thought we were getting. That's not good if we care about the analog voltage level.
Taking this voltage drop that arises from input/output impedance into account all the time is a pain, and as we can see, it's minimized when the output impedance of the first amplifier is small, and the input impedance of the second is very high. So to make our life easy as designers, we just look for parts with low output impedance and high input impedance and pretend that the whole problem doesn't exist. Horowitz and Hill (2nd Edition, p. 65) suggest a factor of ten between input impedance and output impedance. For critical voltage-dependent analog circuits, more is better.
Before we leave this topic, note that relatively little current needs to flow through this system to get the voltage signal across if we have a high input impedance.
Power Transfer
Now what if the second device is something like a motor or antenna? Our goal is not to put a certain voltage on the second device's input, but rather to transfer as much power to it as possible.
To transfer maximum power you want to have the same input impedance on the second stage as you have on the output of the first. (You always want lower output impedance on the first device — more current sourcing capability is always better, but once you've hit that limit, you match the input impedance of the second to it.) Why? Here's a graph where the voltage is set to 5V and the output impedance of the first device is 1 Ohm.
As you increase input impedance, you raise the input voltage (black line) just as in the impedance bridging case above. But a higher input impedance also means less current passing through the system (red line). The power transferred to the second device (blue line) is the product of the current and voltage. You can see that it's maximized when the two impedances are the same.
Note that at the power transfer maximum, we're cutting the voltage in half: 2.5 V instead of 5 V. If you care about both power and voltage transfer, you're out of luck.
High Frequencies
It turns out that we want to match impedances at very high frequencies too. Why? Because everywhere there's an abrupt impedance mismatch, some signal gets reflected.
At low frequencies, reflected signals don't really matter that much. They bounce back and forth in the wire connecting the two devices so fast, getting a little bit absorbed in the wire with each trip, that they die out quickly relative to the frequency of the signal we care about. At high frequencies (say 300-500MHz and up?), the signal we care about changes on about the same time scale as the reflected signals bouncing around in the wire, and the desired signal and its reflections get confused together. We want to avoid that.
There's a trade-off with high frequency impedance matching. Often, we really do care about the level of the voltage signal, but we're so disturbed by the echoes that it's worth taking the 50% loss in voltage level to make sure that there are no reflections messing the signal up. You just have to make up for this loss in voltage with some extra amplification.
So to sum up, when you want to transfer power or minimize reflections for high frequency signals, you match the input impedance of the second device to the output impedance of the first.
The Last Wrinkle: Impedance Isn't Just Resistance
So far, we've been pretending that our impedance is purely resistive. But most real-world devices have a bit of capacitance or inductance to them as well, and they have frequency-dependent resistance. Capacitors have lower resistance at higher frequencies, while inductors have lower resistance at lower frequencies. If your devices have significantly capacitive or inductive input or output impedances, you'll also have to keep in mind what frequency you're operating at.
For voltage transfer, we're just worried about making sure that the input impedance is high enough. Too much input capacitance at high frequencies can be a problem here.
To minimize reflections at high frequencies, you can often look up (or calculate) the output impedance at the desired frequency and add in a simple resistor to ground at the input of the second device to match it.
If you're interested in maximum power transfer, things get messy. Capacitors and inductors don't react instantly, and you need to match this reactance as well. This is a problem that bedevils radio transmission amplifier/antenna systems. Radio folks are very interested in getting the maximum power out to their antenna, so they have a number of tricks to make these complex impedance matches work.
But the take-away from today: try to match input impedance to your output impedance for power transfer or high frequencies, but keep the input impedance much greater than the output impedance if you're interested in voltage signals.