A team at [Vanderbilt University] have been hacking together their own peristaltic pumps. Peristaltic pumps are used to deliver precise volumes of fluid for research, medical and industrial applications. They're even occasionally used to dose fish tanks.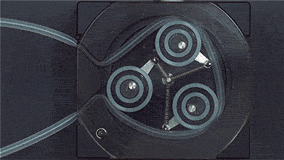 They work by squeezing the fluid in a flexible tube with a series of rollers (check out the awesome gif from Wikipedia to the right). We've seen 3D printed peristaltic pumps before, and cheap pumps have been appearing on eBay. But this build is designed to be lab grade, and while the cheap eBay devices can deliver ~20ml/min this one can deliver flow rates in the microliter/min range. It also has a significant cost advantage over commercial research grade pumps which typically cost thousands of dollars, each of these pumps costs only fifty bucks.
The pump has a clear hacker heritage, using an Arduino Uno, Adafruit Motor shield, and 3D printed mechanical parts. So it's particularly awesome that they've also made their design files and Arduino code freely available!
[Via the Pelling Lab on Twitter]