[Carsten] messed up. He was soldering an ARM CPU onto a quadcopter board in haste, failed to notice that the soldering iron was turned up to eleven, and pulled some of the traces up off the PCB. In the process of trying to fix that, he broke three pins off of the 100-pin CPU. The situation was going from bad to worse.
Instead of admitting defeat, or maybe reflowing the CPU off of the board, [Carsten] lasered the epoxy case off of the chip down to the lead frame and worked a little magic with some magnet wire. A sweet piece of work, to be sure!
Of course, we've covered decapping chips with nasty chemicals a number of times before, but we think that the ease of removing the epoxy case with a widely available laser cutter is a quantum leap in convenience. In [Carsten]'s case, it made it worth attempting a decap instead of board rework. Indeed, we've just featured another project where someone lasered off an epoxy blob just for idle curiosity. We expect we'll be seeing this technique a lot more in the future.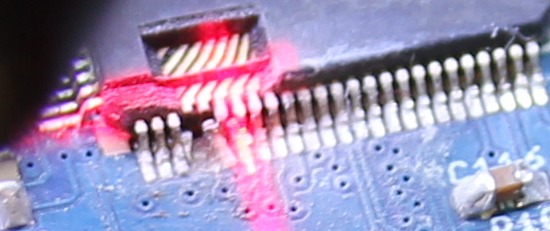 If you're interested in peeking behind the epoxy curtain, you should also watch this presentation from the 31st Chaos Computer Congress that [Carsten] credits with inspiring him to pick up the laser rather than attempt a risky desolder. The talk covers a range of techniques to get down to the bare metal that are much easier than nitric acid, which frankly gives us the willies.
Thanks [Itay] for the tip!