During the early 1900's, [Einstein] was virtually at war with quantum theory. Its unofficial leader, [Niels Bohr], was constantly rebutting Einstein's elaborate thought experiments aimed at shooting down quantum theory as a description of reality. It is important to note that [Einstein] did not disagree with the theory entirely, but that he was a realist. And he simply would not believe that reality was statistical in nature, as quantum theory states. He would not deny, for example,  that quantum mechanics (QM) could be used to give a probable location of an electron. His beef was with the idea that the electron doesn't actually have a location until you try to measure it. QM says the electron is in a sort of "superposition" of states, and that asking what this state is without measurement is a meaningless question.
So [Einstein] would dream up these incredibly complex hypothetical thought experiments with the goal of showing that a superposition could not exist. Now, there is something to be said about [Einstein] and his thought experiments. He virtually dreamed up his relativity theory while working as a patent clerk at the ripe old age of 26 years using them. So when he had a "thought" about something, the whole of the scientific world stopped talking and listened. And such was the case on the 4th of May, 1935.
The EPR Paradox
Yes, I know we've talked about this before. However, if we want to understand what hidden variables are and why they passed away last Monday (the 24th) , then we need to look at some other details. I encourage you to read our previous discussion of the EPR paper if you have not done so or are unfamiliar with it, as the following paragraphs are going to get a bit heavy.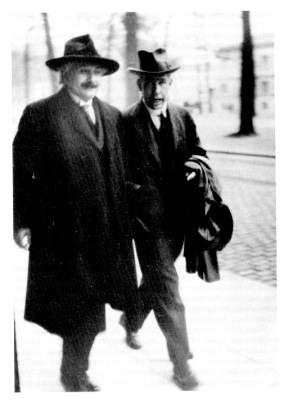 To reiterate – before we learn what hidden variables are, we need to know what the EPR paper was all about. And to know what the EPR paper was really about, we need to understand the motivation behind it. [Einstein] did not come up with what would become known as the EPR paradox to further knowledge or to shed light on a new idea. It was carefully constructed for one purpose – to put a hole in QM without [Bohr] being able to weasel his way around it, as he had done so many times before. [Einstein] had learned through failed previous thought experiments that [Bohr] was a master at using his measuring instruments against him. [Bohr] would always figure out a way to show how the measuring device disturbed the system and made the entire experiment irrelevant. [Einstein] needed a way to look at the state of particle without disturbing it. And this is exactly what the EPR thought experiment does.
Now, if you have read up on the EPR paradox, you would know that it involves a pair of entangled particles. The particles, because of their entanglement, have an odd property. Any change in a particular property of one particle will be reflected, instantaneously,  on the other. This gave [Einstein] the ability to know the state of a quantum particle without directly observing it. It was exactly what he needed to blow a hole wide open in QM.
He separates the two particles over a large distance. He then observes the location or momentum of one of the particles. This forces the shared wave function to collapse, and he is able to know that the other particle (far, far away) has a location or momentum. Somehow the other particle must "know" what measurement [Einstein] has made. "No reasonable definition of reality could be expected to permit this." the paper would conclude.
Hidden Variables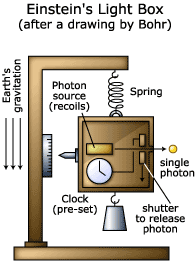 There was an alternate theory proposed by the EPR team, and you have probably already guessed what that
theory was. If, during the creation of the entangles particles, there were some type of variables hidden within the two particles that would cement their state, then the entire notion of the superposition could be done away with. Determinism would be restored and there would be no paradox.
Before we move on, it should be noted that the original EPR paper was not worded very well. [Einstein] didn't actually write it, [Podolsky] did. He would later regret this and go on to say that is was full of formalism that distracted from the main points he wanted to make. Other physicists recognized this, and redid the thought experiment to use more intuitive properties such as electron spin and photon phase as opposed to position / momentum to describe the paradox. This, along with advances in technology would soon allow young scientists to extract the paradox from the realm of imagination and put it to a real world test. And this is where things start get interesting.
John Bell
It is unlikely that the EPR team or [Bohr] thought about a real world test of the paradox, as they had bigger things to attend to. Others, however, were hard at work playing with the geniuses' leftovers. If entanglement and its resulting "spooky action at a distance" was real, it would lead to some ground breaking implications. If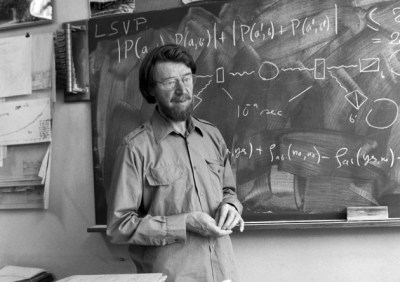 [Einstein's] local variables were real, it would have a major impact on the future of QM. John Bell was one of these men hard at work to solve the paradox. While the Bell Inequalities are worthy of an article on its own, I will summarize them here.
Bell figured out that if local hidden variables existed, they could only explain entanglement up to a certain point. If entanglement could be shown past this point, it could be proven that it was indeed caused by the 'spooky action' and not hidden variables. In short, his theory states:
No physical theory of local Hidden Variables can ever reproduce all of the predictions of Quantum Mechanics.
It is easiest to think of it like this – If you measure the spin of pairs of enough entangled electrons, then you can prove that it was the result of spooky action and not hidden variables. Bell's Inequality sets the amount you need to measure.
Say Goodbye to the Loopholes
Many have tested the EPR paradox – the first experiment being run in 1981. There have always been loopholes, however, that has kept [Einstein's] local hidden variables on life support. You see, every single experiment has shown that spooky action is real. There is really some type of connection between entangled particles that is independent of space and time. But the experiments were not perfect. Experiments using entangled photons suffer from the inability to account for all of them. This allows for hidden variables to draw a gasping breath via what is known as the detection loophole. This can be countered by using particles or even atoms, which are easier to keep track of. But it's difficult to separate entangled particles over long distances, which is needed to ensure communication between the two would have to be faster than light speed, giving rise to the communication loophole.
On August 24, 2015, just a few days ago, a team of researchers released the results of a test that does away with all loopholes. No more can local hidden variables claim to exist. It has taken its last breath and we can conclude what we've all known all along – [Einstein] was wrong. The nature of reality is indeed statistical. If you want to find any local hidden variables, you can find them on the same aisle with the aether, cold fusion, and the static universe.
Sources