What kind of computer could you build in 1967? Well, if you were reading Wireless World (a UK magazine) and had a good bit of spare cash, you could build [Brian Crank's] Wireless World Computer. You only needed 400 germanium transistors, 1800 resistors, and an odd number of capacitors, switches, diodes, and neon bulbs. You also needed a good bit of patience, we suspect.
In 1967, the computer cost about 50 pounds to build (perhaps $125 at 1967 exchange rates which would now be about $900 in today's money). To save parts (and thus money and build complexity), the computer used a trick: it processed data one bit at a time. Many older computers did this, including another UK computer named EDSAC.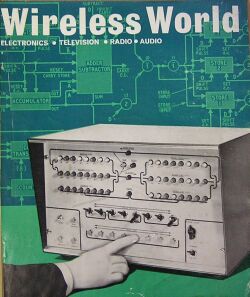 In fact, we couldn't help but wonder if [Brian] had some knowledge of EDSAC as the machine has some superficial similarities (for example, instructions are called orders). The author admits the logic is not always minimized, but says he elected to leave it maximized to help illustrate the machine's operation. There were several basic logic circuits built from transistors, including inverters, NOR, and AND gates as well as various flip flops and a comparator. The computer's main logic was described in terms of these building blocks.
As computers today go, the machine wasn't much. A handful of instructions and 3 slots to store data. But then again, it was 1967 and used leaky germanium transistors! Instructions were keyed in and executed from the front panel (not from memory), although adding a plug matrix board or drum was mentioned as an enhancement and there was some logic available to support it.
We assume [Brian] used germanium transistors because they were cheaper than the relatively new (and much better) silicon variety (and the inferior devices were probably being dumped as cheap surplus by 1967). Apparently several schools built one of these computers. It was more capable (and probably more expensive) than its contemporary paperclip computer (although, in fairness, that one did have a program drum).
Thanks to [EdS] for pointing this one out to us.