We have to admit that we were mislead by the title "Sudden Death: Wall Sign + Night Light". This naturally conjured up images of deadly night lights, but the truth turned out to be a lot less fatal: [Smerfj] had two weeks to make a present for a friend's wedding. The project was either a go or a no-go depending on the deadline — that sort of sudden death. But as we all know, deadlines have a way of bringing the motivation out of us that's not always bad.
The night light in question is a bunch of hand-made circuits, each stuffed into a wooden slice with a letter burned on the face, spelling out [Smerfj]'s friend's name. But to really appreciate it, you have to dig through the build details.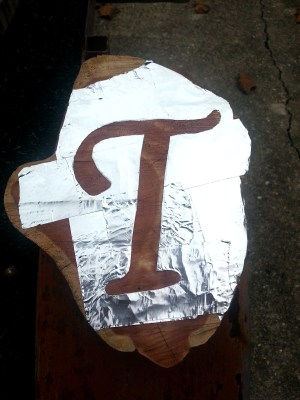 We didn't know how to burn precise lettering into wood. [Smerfj] covered the wood in metal foil tape, then cut the letters out of the foil. Now applying the torch blackens only the part of the logs that have tape removed. Slick.
To get accurate lettering cut into the aluminum tape, [Smerfj] made an impromptu projector out of a cell phone taped to a chandelier (approximately a point light source) and a stencil suspended somewhere between the chandelier and the wood target. Naturally, this is best done in a darkened room under tight deadline pressure.
The battery holders are fantastic. Springs from commercial battery holders were soldered to enamel wire and placed in holes drilled just the width of AA batteries. With the length of the battery taken into account, channels were drilled into the wood and copper wires jammed through, holding the batteries in place, and providing the other electrical contact. Brilliant.
And finally, the free-form night light circuits are great. Fine-tuned to draw the minimum current, they're adjusted to the specific LEDs and phototransistors that [Smerfj] had on hand. Bespoke free-form electronics in hand-blackened wood. That's a nice gift.
Now [Smerfj] just needs nice packaging to present them in. We're thinking DIY laser-cut boxes with interior lighting, naturally.