It has been over 2 years since we last mentioned the Weightless SIG and their claims of an IoT open standard chip with a 10 year battery life and 10km wireless range, all at a jaw dropping price of $2 per chip. There was a planned production run of the 3rd gen chips which I would suspect went to beta testers or didn't make it into production since we didn't hear anything else, for years.
Recently, a company called nwave began producing dev-kits using the Weightless Technology which you can see in the banner image up top. Although the hardware exists it is a very small run and only available to members of the development team. If you happen to have been on the Weightless mailing list when the Weightless-N SDK was announced there was an offer to get a "free" development board to the first 100 development members. I use bunny ears on free because in order to become a member of the developer team you have to pay a yearly fee of £900. Don't abrasively "pffffft" just yet, if you happened to be one first 100 there was an offer for developers that came up with a product and submitted it back for certification to get their £900 refunded to them. It's not the best deal going, but the incentive to follow through with a product is an interesting take.
IoT Open Standard?
IoT projects tend to use WiFi, Bluetooth, Cellular, or ZigBee/DigiMesh but those last two are more often seen in industrial applications. Weightless is proposing an "IoT Open Standard" for wireless communication that takes advantage of the unlicensed sub-GHz band in combination with the now unused UHF spectrum (800 MHz to 900 MHz) we once used for terrestrial broadcast television. Weightless plans to use both of these frequency bands as a global communication protocol with base stations mounted to external structures around the globe. The Weightless SIG first started working on this technology in 2011 so they aren't necessarily jumping on the IoT bandwagon, or not recently anyway.
Is There a Need For technology like Weightless?
The argument goes in both directions quite easily, after all WiFi (802.11) is cheap and readily available. The ability to add cheap WiFi to your project was recently popularized by the Espressif ESP8266 as well as the upcoming offering from Espressif, the ESP32. I've listened to very convincing arguments for WiFi as the IoT wireless standard, during which I was admittedly drinking the Kool-Aid pretty quickly. Maybe I'm easily swayed, but the argument is solid. WiFi is already everywhere.
I was in a shop a few months ago trying to connect to the business' wireless network with my phone and I happened to see an SSID that was out of context "DART-533" it was called. My head whipped up from my phone, peered out the window and scanned the horizon for a bus, sure enough, at the stop light was "Dallas Area Rapid Transit #533" on the LED matrix scrolling message display in the window of the bus. How can you deny the availability of WiFi? The bus had an open network, you could collect sensor data all over Dallas in locations along the bus routes and be able to have each unit phone home multiple times a day/hour depending on the location. Obviously a WiFi enabled mass transit system is not the answer to the connectivity problem, my point is that open WiFi networks are all around us and remain to be a free resource.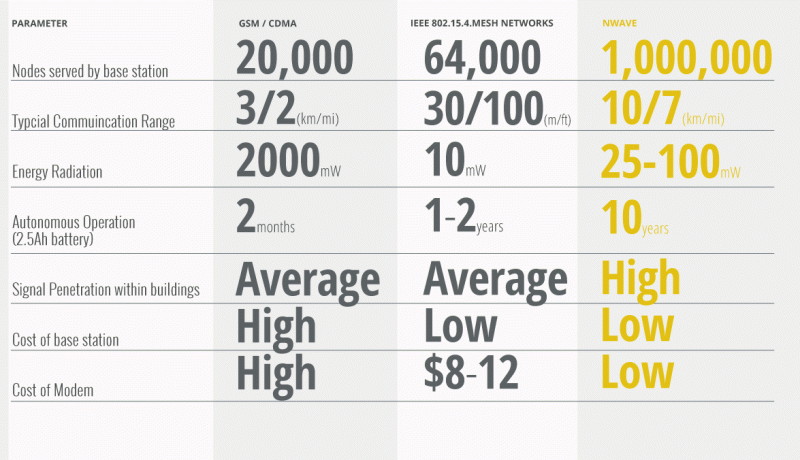 Cellular is another solution that is becoming more and more available as service providers are opening up low transfer data plans to the public. Not so long ago adding a cellular modem and SIM card to your project would cost you another phone line on your existing plan, or you could hack a cheap burner with a prepaid plan. It turns out that what we wanted from the cell companies had existed all along, known as Machine To Machine (M2M) service. The problem being that the business model surrounding this service was very much still a face to face, hand-shaking, salesman setup. And if you weren't buying enough service for someone to make a commission then you were pretty much out of luck. Those hand shakes were reserved for bank deployed ATM's and Coca-Cola.
Weightless Sees a Gap in the Market
The chart shown above is from nwave, who are using the Weightless-N technology and you can see that there are some categories that are advantages to nwave/Weightless-N technology. The most impressive stats thus far are the range and battery life which you can see from the chart that they are unmatched. The other advantage Weightless has is the standard being open, so long as it is adopted by enough of the market.
Weightless-N Smart City networks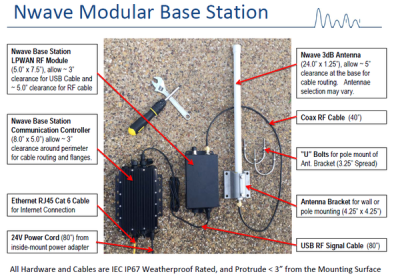 Weightless technology has been deployed in Denmark (Copenhagen and Esbjerg) as well as the UK (London and Cambridge) in the form of nwave base stations.
Although there are not any of the claimed $2 devices known on the market, the open standard Weightless-N uses unlicensed sub-GHz ISM band and the SDK is available royalty-free. Although it seems that the SDK is also only available to those who are paid members of the development team.
Weightless-P announced and ?
According to the press release on the Weightless site the new feature-rich Weightless-P standard is available. In comparison to the Weightless-N standard we have some improvements:
fully acknowledged 2-way wireless link
data rates up to 100kbps
higher capacity network than existing LPWAN technologies
The press release also includes C-level company men saying things like "revolutionary" and "transform the space". Which is worth about as much as an interview with an athlete who says "here for the team" and "we got out there and hustled". The release does not say exactly what Weightless-P being "available" actually means, I suspect it would cost somewhere around £900 to find out.
Weightless-W MIA
The headlining feature of the Weightless technology is the use of the UHF band which was previously occupied by television transmission. The Weightless site has mention of it in a few places  but no press releases, SDK, or 3rd party hardware. I think this is the piece of the puzzle that is most wanted and could really be a game changer.  Understandably there is some bureaucracy involved in using this band of the spectrum for anything but we sure wish they would move it along so we can play! Sitting through the releases of Weightless-N and Weightless-P are making me restless and aggravated, like sitting on the edge of the pool during "adult swim" (the longest half hour of my childhood summer).
In Cyni-Summary
As cynical as I tend to be (maybe it has come across through the screen a bit?) this sounds like an interesting concept. I like to put my hands on hardware as much as the next guy and hearing about it for years without being able to see it at Mouser or Digikey is a bit like crying wolf. I understand the need for committed developers as initial hardware testers and the incentive program is a nice touch, but what's the harm in selling your hardware to those who want to buy it just for the sake of selling hardware? I would buy a reasonably priced module just to play with, especially if I had access to a so-called Smart City Network.
So not much has really changed for the vast majority of us when it comes to Weightless technologies. Hopefully someday we'll have some hardware of our own to play with. Until that happens you can watch this video a few hundred times.