This week I was approached with a question. Why don't passenger aircraft have emergency parachutes? Whole plane emergency parachutes are available for light aircraft, and have been used to great effect in many light aircraft engine failures and accidents.
But the truth is that while parachutes may be effective for light aircraft, they don't scale. There are a series of great answers on Quora which run the numbers of the size a parachute would need to be for a full size passenger jet. I recommend reading the full thread, but suffice it to say a ballpark estimate would require a million square feet (92903 square meters) of material. This clearly isn't very feasible, and the added weight and complexity would no doubt bring its own risks.
There's a deeper issue hiding in the questions though. A question of flight safety, and perhaps our inherent fear of flight. It's easy to worry about the safety of passenger aircraft, particularly in light of the spate of high profile accidents in the last couple of years. However, the truth is that air travel is not only very safe, it's getting safer every year.
The figure to the right is compiled from a couple of publicly available sources. It shows the number of airplane accidents per year divided by the number of flights. Since the 1970s accident rates have consistently dropped. There's an excellent write-up covering this by an ex-Boeing employee which I also urge you to read.
One aspect of air flight that breeds fear is the lack of information that often accompanies accidents. The unknown fate of missing aircraft allows the media to feed on speculation, and with it our natural fear of the unknown. Our inability to locate aircraft often seems confusing, in a world we feel like significant effort is required to avoid having our locations tracked by the NSA every second of every day, why can we not locate something as large as a passenger jet?
The fact is that aircraft are constantly monitored when possible, and that the information is widely available! Aircraft transmit their GPS coordinates over ADSB. The popular flight traffic monitoring site FlightAware 24 uses this as one of its data sources. It's also pretty easy to acquire and decode ADSB signals yourself using an RTL SDR dongle.
However ADSB is used by aircraft to communicate with ground stations. It therefore doesn't work over oceans. A solution to this would be to use satellite uplinks but that's expensive, and some say of limited utility. Other suggestions are to create a kind of mesh network between aircraft as they travel over oceans. No doubt such tracking solutions will become more common as user-demand for in-flight WiFi continues to grow, and Twitter becomes cluttered with users tweeting pictures of their in-flight meals.
Whatever the root cause of our fears. Air travel is very very safe. But another recent "What-if", prompted me to consider what air travel might be like if safety was not our paramount concern. The recent and controversial amazon TV series "The Man in the High Castle" shows a world where the allied power lost World War Two and the Americas are ruled by a coalition of the Japanese and Nazis. There's one point when a supersonic flight (the featured image above) lands in San Francisco, having taken only two hours to arrive from Europe. In a world, perhaps more willing to take risks with human life, and more willing to compromise on the wishes of its citizens. Would supersonic flight still be commonplace?
Commonplace Supersonic Travel
We of course, used to have supersonic passenger aircraft. Until the year 2000, Concorde was considered one of the safest aircraft in the world. It's one, and only crash in that year, the slump in air traffic following 9/11 and the fact that supersonic commercial aircraft were banned over land all conspired to make Concorde un-economical. Commercial flights ceased in 2003.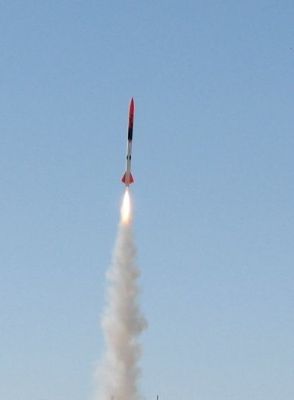 While supersonic flight may currently be impractical for commercial flight, hobbyists have been trying to get in on the supersonic action. The fastest RC aircraft have not yet quite reach supersonic speeds, but supersonic rockets have been built. This instructable describes the process of modifying a $70 rocket (with $360 of components) to achieve supersonic speeds. On a test flight [gizmologist] achieved a speed of 801mph (Mach 1.07).
There was no audible sonic boom from [gizmologists] rocket, by the time the rocket reaches supersonic speeds it's already 450 meters up, and the sound waves generated radiate out sideways.
Supersonic aircraft however, do produce a sonic boom. And it was this invasive sound, that caused commercial supersonic flight to be banned over land, helping to seal Concorde's fate.
Sonic booms are caused by the same mechanism as the Doppler effect. In the Doppler effect an object moving toward you appears to produce a higher frequency sound. Because the source of the sound waves is moving toward you it "catches up" with the wave front effectively compressing the waves and generating a higher frequency in the direction of motion.
In a sonic boom the wave fronts are being pushed so close together that they catch up with each other. Multiple wave fronts therefore lie on top of each other. All that sound is compressed together, and reaches your ear in one big bang.
NASA however have been working on plans to "fix" the sonic boom issue in super-sonic aircraft. They've invested $2.3 million in research projects to predict, and reduce the sonic boom effect.
Who Killed the Electric Plane?
Supersonic aircraft were an impressive technological leap, but existing designs are still powered by fossil fuels. In a world where consumer vehicles are beginning to transition to all electrical systems this feels a little old fashioned. Building small electric planes is possible, but has been held back in the US by FAA rulings, though a few are available.
Existing electric aircraft are all pretty conventional using electric motors (generally of the brushless DC variety) to generate motion. But spend much time on YouTube though and you're likely to come across a very different type of "craft" with many videos claiming to have created anti-gravity UFO. These stem from Thomas Townsend Brown. In the 1960s he created devices which he believed were using electric fields to modify gravity. Unfortunately this was not the case.
What he had actually built was an Ionocraft.
The basic propulsion mechanism is quite simple. Put a pointed electrode near a smooth one then throw a few thousand volts across them, this simple setup will then generate thrust. It accomplishes this by creating an electric field focused on the tip and spreading out to the smooth surface. Where the field is strong electrons are pulled off atoms in the air, ionizing it. These positively charged atoms fly toward the negative electrode. This in itself does not generation thrust, but as the ions move they hit other uncharged atoms in the air, creating what is known as "ionic wind".
A related technique has successfully used by NASA and JAXA in their space probes. Because there's no air in space to ionize however, they need to take their own gases to ionize with them. While the ion thrusters produce very little force, they are extremely efficient, which is of paramount importance in space travel.
However aside from the odd YouTube video they've found limited utility here on earth. It's possible that this could change. While Ion thrusters generally produces very little force, recent studies have shown that they may be an order of magnitude more efficient than jet engines. There are some pretty significant challenges to solve, like the huge voltages (10s of kilovolts are used even in a small lifter) required to generate the required lift, or the large physical size of the thrusters. But it wouldn't be entertaining if, the future of both space and terrestrial flight rested in what was once considered the work of an anti-gravity crank?
Whatever happens in the future, lets hope that as planes become faster and more efficient as their unremitting march of every increasing safety continues.