As the light of the 20th century was peeking over the horizon, a young physicist by the name of Max Planck was taking to heart some career advice he had received while he attended Munich University in Germany. With the recent discovery of thermodynamics, there wasn't much left in physics to know, or so his adviser thought. Hindsight is indeed 20/20.
It turns out that Planck was an expert at thermodynamics. Having mastered the subject gave him some leverage to use against a growing group of physicists known as atomists who were using statistical models along with so called 'atoms' to predict experimental outcomes. Atomists believed that matter was composed of discrete units. Planck believed the world was continuous and could not be divided into any type of discrete component. And he would draw the second law of thermodynamics from his holster and put this atom idea in the clay.
Entropy to the Rescue
For the sake of argument, let us severely oversimplify the second law of thermodynamics to say that the entropy in an enclosed system will increase and it can't be reversed. Entropy is the measure of disorder in a system. If we introduce gas into an enclosed container isolated from the outside world, the entropy of that gas would increase spontaneously to maximum, where it would be at equilibrium with its surroundings. And you can't undo that process.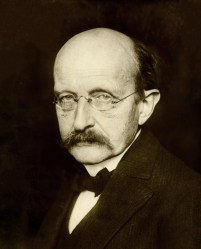 Now let us use this knowledge to formulate a plot to take out the atomists and their silly atom idea. Imagine we introduce two gasses, each at a different temperature, into a closed container. The 2nd law says that the temperatures would equilibrate as the entropy rises to its maximum value.
The atomists view is that this happens as a result of the mechanical interactions of the atoms comprising the gas. And that the equilibrium state is simply the most statistically probable state. If this were true, Planck would argue, then there is nothing to say that the process cannot be reversed. That the gas atoms could be separated and restored to their original temperatures and thus reducing the overall entropy of the system. Which is a direct contraction to the 2nd law of thermodynamics.
Ludwig Boltzmann, lead atomisit and thusly Planck's arch rival, responded to the challenge with more statistics. He argued against the 2nd law itself, saying that the idea that entropy always increases is incorrect. Statistically speaking, it almost always increases. There is a chance, however small, that it could decrease. Basically he said that if you wait long enough, you could catch the entropy decreasing and the different gas atoms separating. The odds of such an event would be similar to the odds of a shattered light bulb reassembling itself. Mathematically, the time required works out to longer than the current age of the universe. While this might sound ludicrous, Boltzmann is on theoretical solid ground. His statistics had provided a proverbial bullet proof vest against Planck and his thermodynamics.
Black Body Radiation
This was the tipping point for Planck. Seeing his beloved thermodynamics stained with this ridiculous statistical hyperbole pushed him even harder to squash the atomists. He would turn to another issue in classical physics that was providing some headaches. It has to do with what is called cavity radiation. You see this in action whenever you turn on an incandescent light bulb. As a substance heats up, it will begin to emit light. The higher the temperature, the higher intensity and frequency of light emitted. Low temperatures, relatively speaking, will produce a dull red glow while the highest temperatures will produce a bright white light.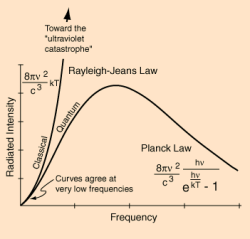 Physicists had simplified the process to what is called a black body. A black body is completely theoretical in concept. It absorbs all light radiation and is at a state of thermal equilibrium. That's just fancy talk for saying the thing's the same temperature throughout. The black body will emit radiation, called black body radiation, and the intensity of that radiation will be related to the body's temperature. Now, if one sticks the thing in box a pokes a little hole in it that allows one to put radiation into the black body and then see what comes out,  one can study the black body radiation in detail.
By doing black body experiments, physicists had discovered that the ratio of energy going in the little hole and energy coming back out was not dependent on the cavity shape or what it was made of. This led physicists to believe that there was something very, very fundamental to the nature of the radiation itself going on that they did not understand.
Physicist Wilhelm Wien had shown that there was a mathematical relationship between the temperature of the black body and the frequency of the resulting emitted radiation. But it only worked for higher frequencies. Two physicists by the names of Lord Rayleigh and Sir James Jeans would later go on to show how the output energy was related to frequency. Unlike Wien's work, their equations accounted for experimental observations at the lower frequency ranges.  But it didn't work at higher frequencies. According to their math, as the frequency of emitted radiation tended toward the ultraviolet range, the output energy would have to be infinite, birthing the phrase Ultraviolet Catastrophe. Clearly something was missing.
Planck's Change of Heart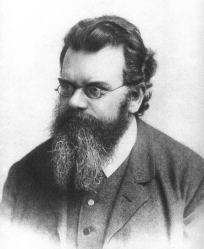 Lest we forget about our Planck – Boltzmann feud, Planck had originally turned his attention to the ultraviolet catastrophe in order to show that nature was not composed of atoms, but was continuous throughout. It didn't take him long to figure out how to mend Wien and Rayleigh-Jeans' work into something that would agree with experiments at all frequency ranges. Through what was mostly guesswork, he came up with this little constant that made all the numbers add up.  After doing some black body experiments, his equations appeared to work across the entire spectrum.  Its significance would not be made apparent, however, until he was forced to come up with a theoretical basis for it, for which he would later say "…led to some weeks of the most strenuous work of my life".
We'll save the details on how Planck figured out where the constant that bears his name came from for another article, but let us understand for the moment that as he dug into the idea of this fundamental constant, the math kept taking him in the statistical direction…a direction he did not want to go. Boltzmann was able to account for entropy of a gas by assuming that energy was contained in the individual atoms. Planck was forced to consider the idea that entropy and probability were linked. This consideration led him to understand that, just as Boltzmann's atoms of gas were little packets of energy, so too was his constant.
"We therefore regard – and this is the most essential part of the entire calculation – energy to be composed of a very definite number of equally finite packets."
It would have been impossible for Max Planck to know that his energy packet idea, later to be called a quanta, would birth a new understanding of the very nature of reality itself.
Sources:
The Quantum Story, by Jim Baggott. Chapter 1  ISBN-978-0199566846