We were doing our daily harvest of YouTube for fresh hacks when we stumbled on a video that eventually led us to this conversion of a 1980s Armatron robot to steam power.
The video in question was of [The 8-bit Guy] doing a small restoration of a 1984 Radio Shack Armatron toy. Expecting a mess of wiring we were absolutely surprised to discover that the internals of the arm were all mechanical with only a single electric motor. Perhaps the motors were more expensive back then?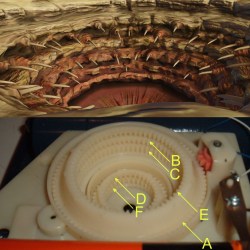 The arm is driven by a Sarlacc Pit of planetary gears. These in turn are driven by a clever synchronized transmission. It's very, very cool. We, admittedly, fell down the google rabbit hole. There are some great pictures of the internals here. Whoever designed this was very clever.
The robot arm can do full 360 rotations at every joint that supports it without slip rings. The copper shafts were also interesting. It's a sort of history lesson on the prices of metal and components at the time.
Regardless, the single motor drive was what attracted [crabfu], ten entire years ago, to attach a steam engine to the device. A quick cut through the side of the case, a tiny chain drive, and a Jensen steam engine was all it took to get the toy converted over. Potato quality video after the break.