The following is my personal advice, it probably doesn't apply to all contractors, but it's certainly applied to me. When you start contracting, your most pressing question is probably "how do I find clients" so here's what little I've learned so far…
1. Don't
For some, contracting is seen as a potential escape route from the hum-drum of a dull, often political office environment. But contracting isn't always the answer. Pay, while often better, is inconsistent. I've had clients pay two months late (and think it's normal), pay the wrong amount (due to misunderstanding currency conversion) and just plain forget to sign off an invoice. Chasing down these invoicing issues will all be your job. Clients will say "we'll definitely hire you" and then a contract will never happen.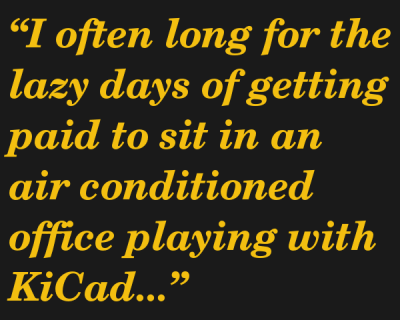 You might think you can just hack on an interesting project and send off your deliverables, avoiding all the other annoyances that come with an office job. It often doesn't work that way either. Clients often don't know what they want, and will ask you to help them slowly iterate toward a solution. Many client political issues can crop up in a contracting context too. You might have some distance from these issues, but ultimately they still exist.
I'll be honest, when I'm at home working on a contract with toddler trying to draw on my face, I often long for the lazy days of getting paid to sit in an air conditioned office playing with KiCad because management can't quite make up their mind about exactly what they want to do next. That kind of job security doesn't exist with contracting.
So… if you're looking for an escape route, consider other options. Can you bootstrap a small business to give you the life style you're looking for? Would you ultimately be happier with venture funding (that brings its own evils) and starting your own thing?
2. Also Don't
Seems you're still reading and I've not yet managed to convince you contracting isn't the answer. So you really want to start searching for clients huh? My suggestion here is also don't.
I've tried contacting people in my industry, firing out 5 to 10 emails a day. I've set up accounts on bottom dollar freelancer websites and bid for work. Sometimes this leads to interesting conversations, but never actual work. There are only two ways I've got work:
Personal Contacts
People who cold-contact me via my blog
Personal contacts can come from anywhere. This might be an old colleague, or someone you've chatted to about work in the past. In my experience, if you've had good conversations and they're looking for someone there's a strong possibility they'll reach out to you. But don't push yourself on them, these are people in the industry who you are really just having an honest and open conversation with. If they have work, and you make contact semi-regularly it might turn into a contract for you. Do try to get into the habit of providing value to your industry contacts. If you've heard something, or seen something that they've likely not seen and is genuinely interesting, email them.
An example is a contract I got recently. I helped a friend pitch a company that ultimately didn't get funded. But because of that I met a bunch of new people, and ultimately secured a small contract.
The other route is the blog, I've written a few posts around the niche in which I work. The supplied novel industry analysis wasn't available elsewhere, but my niche is small and probably only a few thousand people read these posts. However they're the right people, and helped secure contracts worth about $100k as well as prompting many other interesting conversations.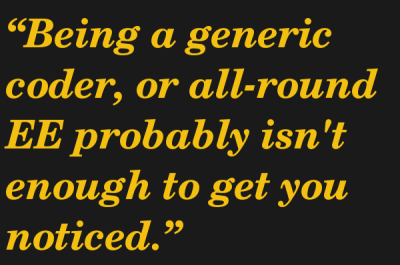 Now, I'm not saying don't cold-contact people. Do that too! But focus on just having conversations with people and better understanding the industry regardless of whether there's work in it.
And if you do happen to write a cool blog post, send the link to us!
3. Have a niche
Being a generic coder, or all-round EE probably isn't enough to get you noticed. And if you do get clients they probably wont value you correctly. Try and find something that you're an expert in that'll make it tough for others to undercut you, something that you can talk about easily with potential clients and are therefore regularly involved in those conversations as "the guy who knows about that stuff".
So. That's my advice on getting work. Consider your options, and make sure you talk to people. The work will come as a side-effect of that.
Editor's Note: This article is written under a nom de plume. We prefer that Hackaday writers stand behind their work by putting their actual name in the byline. This column is specifically about contracting in the engineering world. Although there is nothing particularly risky about the experiences shared here, we respect the author's wish to safeguard past and future business connections by publishing under a different name.