The Enlightened Raspberry Pi Contest wrapped up last week. As soon as the contest closed, Hackaday's crack team of judges jumped on the case. Every entrant was carefully reviewed.  This was no easy feat! The field of 168 projects included both new concepts and old favorites. All of them were designed, built and documented with care. After all the votes were counted, 8 finalists rose to the top and were sent to [Matt Richadrson], [Ken Shirriff], and [Alvaro Prieto], our VIP judges, for the final ranking.
Each and every project creator deserves recognition for not only building an awesome project, but documenting it on Hackaday.io so others can build, modify, and enjoy their own versions. Without further ado, here are the winners of the Enlightened Raspberry Pi Contest!
Grand Prize
Grand Prize goes to [nick.r.brewer] with PIX-E Gif Camera. [Nick] has created a camera which can shoot animated GIF files, a mainstay of the internet since the 90's. The camera's 3D printed case takes us back to the days of disposable 35mm shooters. Alvaro said "Love the combination of written instructions with photos and time-lapse videos of the assembly process. If I were to try to put this together, I know I'd have everything I need to know available on the site."
[Nick] will be taking home a Pi-Top Raspberry Pi powered Laptop.
First Prize
First prize goes to [Ben Pirt] and [Ben Gray], collectively known as Mime industries, for MeArm Raspberry Pi Edition. [Ben and Ben] improved upon the well-known MeArm. They simplified the design, reducing the screw count from 40 to 12. More importantly they added a Raspbery Pi and a joystick controller hat. Ken had this to say:
"This robot arm project is very polished, consisting of both the mechanical design and software. The step-by-step construction instructions are clear and easy to follow. The mechanical design is well though out, with pieces that snap together nicely."
[The Bens] have won a Pi-Top Ceed all in one Pi Powered computer for the Mime industries offices.
Second Prize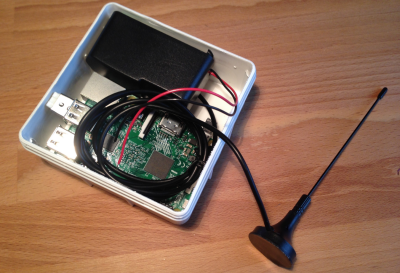 Second prize goes to [Solenoid] with Bypassing TV broadcasting restrictions. [Solenoid's] father can't watch many of his favorite television channels due to geographical restrictions in their native Switzerland. [Solenoid] has created a device which receives RF broadcasts, then retransmits them over the internet. Matt said:
"This project thoroughly explained the software setup, something that is often rushed through in other projects."
[Solenoid] wins an Adafruit 32×32 RGB Matrix Setup. We're hoping he uses it as a low-res (1024 pixel!) TV viewer to go along with his project.
The Remaining Finalists:
We're happy to award five more prizes to round out the top eight entries.
Runner up [davedarko] with Portable Raspberry PI Zero wins a Raspberry Pi Camera V2
We'd like to congratulate all the winners, as well as thank everyone who entered the contest. The fun doesn't end here though. The Enlightened Raspberry Pi Contest was the first of a series of contests here at Hackaday. We're already teasing the next contest, The 1kB Challenge. Look for an official launch post on Monday!