Arthur C. Clarke said that "any sufficiently advanced technology is indistinguishable from magic." Even though we know that something isn't "magic", it's nice to see how close we can get. [Dofl] and his friends, big fans of the magic in Harry Potter, thought the same thing, and decided to create a magic wand that they could use themselves.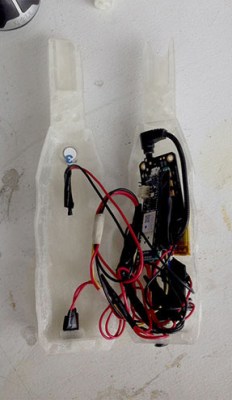 The wand itself is 3D printed and has a microcontroller and WiFi board, a voice recognition board, a microphone, and a vibrating motor stuffed inside. The wand converts the voice into commands and since the wand is connected to WiFi, the commands can be used to communicate with your WiFi connected lights (or your WiFi connected anything, really.) Five voice commands are recognized to turn on and off music, the lights, and a "summon" command which is used in the video to request a hamburger from delivery.com. For feedback, the motor is vibrated when a command is recognized.
There's not much technical information in the original article, but I'm sure our readers could figure out the boards used and could suggest some alternatives to get the wand's form factor down a bit.  Over the years, other wands have appeared on our pages, using some different technologies.  It's a fun way to interact with the environment around you, even if you know the "magic" involved is just boring old technology.