At the Hackaday SuperConference in November, Sophi Kravitz had the chance to look back on the past year of Hackaday.io, and what a great year it has been. Hackaday.io now has over 178k members who have published 12.6k projects with about 10% of those being collaborative team projects. But the numbers tell just a small story of the vibrant community Hackaday has.
The Hackaday crew made a trip to the desert to begin 2016. This resulted in the Hackaday Prize video which launched the engineering initiative which wrapped up with the awards ceremony at SuperCon. The video launched the 2016 Hackaday Prize, but not long after there were 80 different locations around the world that got together at the same time for World Create Day. Many of these meetups resulted in entries that joined the 550 projects submitted during the first challenge round of the contest. Of course the final number totaled more than 1000 projects!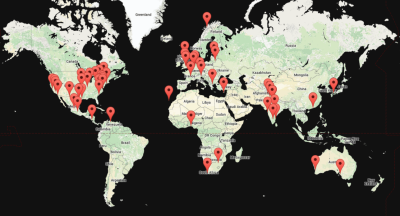 The Hackaday Community grew its live meetups this year. The Hackaday MakeIt NYC meetup is a monthly gathering founded in 2016. The Hackaday LA meetup continues to flourish, with meetings now held at the freshly opened Supplyframe Design Lab every month.
The social interactions on Hackaday.io continue to grow. The Hacker Channel is the place to start. Interact with your fellow hackers any time you want, and join in the organized Hack Chats like this Friday's Eagle chat. The Jobs Board is just one year old now and is a great place to find or advertise jobs. And there's been a ton of community interaction around special projects like the Traveling Hacker Box.
Perhaps one of the most interesting surprises in 2016 was the Square-inch Project. This is a completely community organized contest started by [alpha_ninja]. But like any good idea on Hackaday.io, it didn't take long to find help with the wildly-popular contest. The challenge was to lay out a meaningful circuit using one-square-inch of PCB. There were nearly 80 entries!
There's more where that came from. You can try you hand coming up with an algorithmically generated default avatar for users. And an impromptu challenge popped up to give away some ever-elusive SuperCon tickets which itself spawned a second challenge.
The fun and camaraderie of creation continues today with contests like the 1kB Challenge. If you're not on the IO, you're missing out!